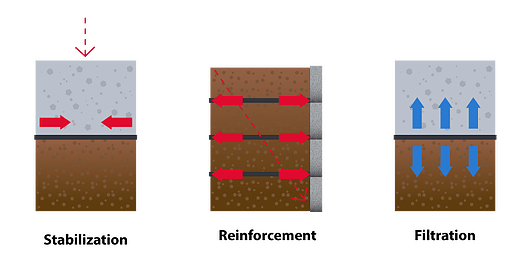 Biaxial and multi-axial geogrids provide stabilization and filtration.
Uniaxial geogrids provide reinforcement.
What is geogrid?
Solution Overview
Before we define what geogrid is, let's take a look at the larger category of geosynthetics. A geosynthetic is a synthetic product, usually made from or including polymeric materials, that are used to solve civil and geotechnical engineering problems in or on the ground. Geosynthetics add to or enhance the functions of conventional materials to make construction more efficient, cost-effective, and reliable. Designs using geosynthetics should be based on the function(s) of the selected materials to meet the engineering objective(s).
Geogrids were invented by Tensar in the late 1970s and are a category of geosynthetic material that can be used to provide the functions of reinforcement, stabilization, and filtration.
How Do Geogrids Work?
Geogrids have openings, called apertures, which allow aggregate to strike through and provide confinement and interlock.
All Geosynthetics Are Not Created Equal
Tensar geogrids have been tested extensively to ensure long-term performance and value.
Your reputation is at stake any time your stamp is used on a design. At Tensar, we don't take this lightly. That's why we have invested extensively in research and testing for all of our geogrids, proving their design and performance parameters time and again. You can use your stamp with confidence every time Tensar geogrids are specified in a design. Don't risk using products with unproven technologies.
Comparing Geogrids
There are dozens of geogrids and other geosynthetic products on the market. How do you know which is right for your project's needs? When it comes to roadway construction, the keys are proper design and testing to validate performance.
Stabilization / Filtration vs. Reinforcement
Biaxial and multi-axial geogrids provide the functions of stabilization and filtration (think roadbeds or foundational support). Uniaxial geogrid provides the function of reinforcement (think walls and slopes).
A Resilient Solution
Tensar geogrids are 100% UV resistant and will not rust, leach, or degrade in direct sunlight. When you build with geogrids, you can count on a higher-performing and longer-lasting solution for future generations to enjoy.
Trenching with Geogrid
Tensar geogrids are routinely excavated through and punched through in order to place guardrail posts, bridge piers, and underground utilities.
Free-Draining Separation Barrier
Testing and experience have shown that Tensar geogrids support the function of separation when properly graded aggregate fill is used. Geogrids are not prone to "blinding out" or clogging, which may occur with a geotextile used as a separation layer.