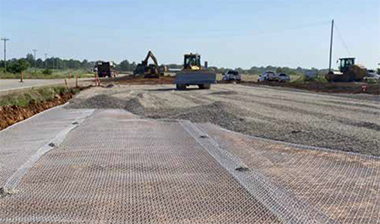 Hwy 37 Realignment
Washburn, MO
Contractor saves time and money passing proofroll with higher performing highway realignment design using InterAx™ geogrid.
Client's Challenge
The Missouri Department of Transportation (MODOT) requires that a subgrade pass a proofroll and density tests prior to placing pavement. The contractor encountered soft soils on the project site and was having difficulty passing the proofroll requirement. A cost-effective and fast solution was needed to keep the project on time and budget.
Tensar Solution
A Tensar representative met onsite with MODOT officials and the contractor to discuss the requirements and expectations. Then he performed dynamic cone penetrometer (DCP) testing at the site. Before leaving the site, he provided a design recommendation using Tensar InterAx NX850 geogrid and nine inches of gravel beneath the asphalt pavement. This design would not only pass a proofroll but also exceed the roadway's designed traffic capacity.
This solution ultimately saved valuable time and cost since the contractor did not need to remove and replace the existing subgrade. In addition, MODOT received the added benefit of a longer lasting and better performing roadway.