Tensar, a division of CMC, provides innovative, project-specific solutions for common site development applications. As a world-leading manufacturer and provider of ground stabilization and soil reinforcement solutions, our proven geogrid technology has benefited thousands of civil construction and engineering projects around the world for nearly 50 years.
When compared to conventional site development solutions, Tensar's technology-based alternatives are faster to install, incorporate higher performance, remain reliable over time and are more cost-effective. Together, these benefits create a greater total value through upfront and lifecycle cost savings, time savings and increased sustainability.
For more information on other CMC divisions and lines of business, visit cmc.com.
Global Reach
In 2022, Tensar became a division of CMC, which is headquartered in Irving, Texas, USA, expanding our global presence significantly. Tensar also works alongside Geopier, a division of CMC, to provide a wider range of solutions to customer.
The Tensar division has over 650 employees located in 16 countries: the United States, Canada, the United Kingdom, Australia, China, the Czech Republic, Dubai, France, Germany, Indonesia, Malaysia, Netherlands, Poland, Saudi Arabia, and Spain. These locations are further supplemented by hundreds of representatives and distribution partners. This extensive network provides the broadest footprint in the industry, capable of quickly providing customized site solutions anywhere in the world.
To assure easy availability of our high-performance solutions, Tensar has three manufacturing locations around the world:
Morrow, Georgia, United States
Blackburn, England, United Kingdom
Wuhan, China
These plants now join the CMC network of sites which includes everything from local recycling centers, steel mini-mills, and micro-mills to large-scale fabricatoin centers, engineering operations, heat-treating facilities, and other construction-related operations.
Innovations and Technologies
Our goal is simple: wherever we see earthwork environmental or infrastructure development, we would also like to add value with a Tensar solution. We view continuous innovation as the lifeblood of the organization, and we believe that it is the best way to drive increased value to our customers through improved profitability, effectiveness, and reliability.
Each of our business units is the leader in its respective market. In many cases, we not only created the market but also developed most of the application technologies used today. We strive to listen to our customers' needs and anticipate them, producing new innovations in tandem with today's modern construction needs. Our commercial teams excel at demonstrating the value of these new technologies and how Tensar solutions can give our customers a definitive advantage on their projects.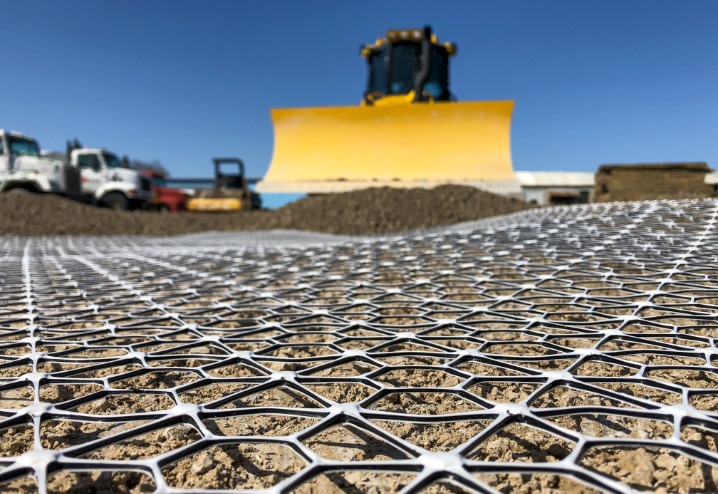 Our Values
CMC provides innovative products and solutions that strengthen and reinforce a wide range of industries. We are committed to delivering industry-leading customer service, providing an environment where our employees can succeed, improving our communities and creating value for our investors. By doing this, we find better ways to make the world we all live in stronger, safer, and more sustainable.
We will always...
...place the customer at the core of all we do.
We believe that if we focus on meeting the needs of our customers, we will succeed. We work hard at understanding our customers' needs and providing creative solutions that add value to their business.
...stay committed to our employees.
We care for our employees by providing an environment where safety is our top concern, employees have the opportunity for both personal and professional growth, everyone is treated fairly, and opinions are respected. We foster an inclusive culture that challenges conventional thinking, promotes teamwork, requires accountability, and rewards success.
...give back to our communities.
We take seriously the responsibility that comes with being a good corporate citizen and are dedicated to making a positive impact in our local communities where we live and work.
...create value for our investors.
We strive to be the strongest company in the materials sector by having a passion for cost efficiency, using our resources effectively, and achieving our goal of consistent, profitable growth.
We believe in...
Acting with integrity by honoring our commitments, being accountable for our actions, and acting with respect for others.
Dedicating ourselves to making the safety and well-being of our employees a top priority.
Promoting collaboration by working together as a team to provide exceptional results.
Encouraging excellence by challenging ourselves to improve everything we do.
Solutions Overview
Tensar geogrids are highly efficient, durable polymer grid products suitable for stabilization or reinforcement of soil aggregates. They are also lightweight and easily handled. This product class is highly suitable for use as structural load-bearing elements in many demanding earthwork construction applications, like the stabilization of roadways, rail track, and other paved and unpaved areas subject to traffic of loading.