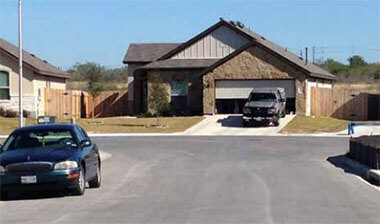 Shadow Creek Subdivision
Buda, TX
Tensar geogrid rescues subdivision roads after expansive soils cause lime stabilization to fail.
Owner: Hays Shadow Creek Development, Inc.
Engineer: Texas Engineering Solutions
Client's Challenge
A subdivision located in central Texas was constructed over very expansive clay soils (high PI - 30 to 60). Variable moisture conditions from the rainy and drought cycles created extreme shrinking and swelling of the clay subgrade. Initial construction phases included pavement sections with lime stabilization or extra flexbase in an effort to combat the expansive nature of the clay. However, the roadways still experienced significant movement, cracking lanes and edge cracking within the initial years of operation which lead to unexpected high maintenance/repair costs.
Tensar Solution
Tensar offered a soil stabilization solution using TriAx® TX5 geogrid to optimize the pavement sections. TX5 geogrid relies on mechanical stabilization that confines the aggregate to mitigate movement and cracking. Studies have shown that the use of geosynthetics like TriAx geogrid can successfully manage expansive soils and increase long-term performance. The residential roads showed significant improvement and TriAx geogrid was included in the design of the remaining construction phases.