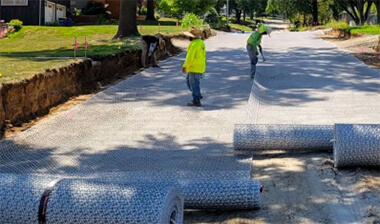 Reconstruction of Reeds Road
Mission, KS
2022
Tensar® InterAx™ geogrid: accomplish more with less time.
Contractor: Seal-O-Matic Paving Company
Engineer: Olsson
Distributor: Carter Waters Construction Materials
Client's Challenge
During the reconstruction of Reeds Road, the contractor encountered soft, pumping, high plasticity subgrade soils. They were on a tight construction schedule and needed a fast solution that could stabilize the subgrade and allow construction to continue.
Tensar Solution
Tensar engineers performed DCP testing along the roadway and provided the City with several options, along with the documentation that allowed the City to get approval for additional funds. They opted for a design of Tensar NX850 InterAx geogrid with 12 inches of aggregate placed on top, which had worked for the City previously on another nearby residential road reconstruction project. This solution achieved a much higher traffic capacity and allowed homeowners to safely drive to and from their homes during construction. The City is now including NX850 geogrid as a line item in their future similar project lettings.