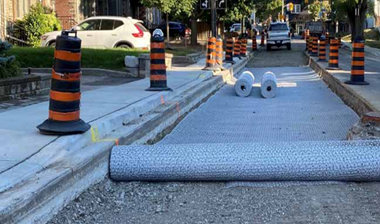 Glen Cedar Road
Toronto, ON
Tensar® InterAx® Geogrid Rescues City Road After Subgrade Failure.
Owner: City of Toronto
Contractor: D. Martino Construction
Engineer: Englobe
Client's Challenge
Glen Cedar Road had recently been reconstructed but began to fail soon after construction was completed. Weak subgrade soils caused instability throughout the subbase, base course aggregate and asphalt layers. The result was surface rutting in the new asphalt.
Tensar Solution
Tensar provided a solution to the instability issue through a recently released design approach for subgrade stabilization in Tensar+™ software. The pavement design engineer was able to assess the contribution of InterAx NX850 geogrid for stabilization of the aggregate layers and support of the asphalt pavement.
Tensar also provided on-site technical support and guidance for the installation of the geogrid. The end result was a higher-performing stabilized city street and satisfied clients.