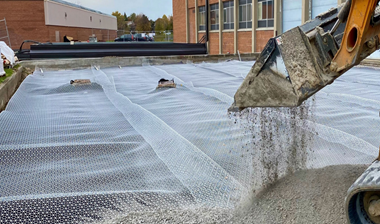 Cedarbrae Collegiate Institute
Toronto, ON
2021
Make disposal costs disappear with Tensar® InterAx™ geogrid.
Engineer: Weiss Architects
Client's Challenge
A Toronto high school was undergoing construction that included replacing a parking and loading area that had been in place for 60 years. During construction, the subgrade began to fail due to wet weather and construction traffic. Test pits revealed a buried organic soil layer, and further testing showed it to be contaminated. Facing a disposal cost of $900/truckload, the owner's representative, the architect, contacted Tensar for help.
Tensar Solution
Tensar carried out DCP testing to determine the subgrade soil strength, and after running analyses using Tensar+ software, the architect and owner elected to use Tensar® NX850™ geogrid beneath the proposed pavement structure with zero additional excavation. Using InterAx geogrid allowed the school board to save over $100,000 versus the cost of removing the contaminated organic soil from the site.