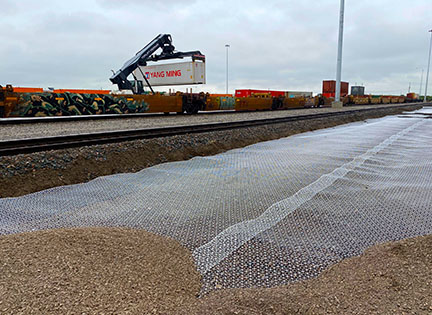 Class 1 Rail Intermodal Facility
Vaughan, Ontario
July 2021
Tensar InterAx™ geogrid strengthens container storage area to accommodate heavy equipment
Client's Challenge
The owner of an intermodal facility needed to expand their space for storage of shipping containers. One of the existing pads that was designed for trailer storage could not handle the super heavy loads imposed by the reach stackers and the pavement began to fail.
Tensar Solution
A new, thicker pavement section was designed with the inclusion of InterAx NX750 geogrid. InterAx geogrid was chosen based on the previous success of TriAx geogrid in the same application and for the purpose of further improving the long-term performance of the pavement section.
Tensar InterAx geogrid was also chosen because of its superior ability to lock aggregate in place and minimize lateral spreading under heavy loads. This stiffening effect will ensure a longer pavement life for the owner.
The installation was successful. The owner and engineer are confident that the new pavement section will have a long service life and that savings will be realized on reduced future maintenance.