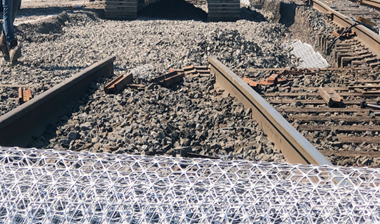 Port of Montreal-Rail
Montreal, Quebec
Maintenance costs of track crossovers reduced with Tensar InterAx geogrid ballast stabilization.
Owner: Port of Montreal
Contractor: PNR
Distributor: Alkegen
Client's Challenge
The Port of Montreal operates its own "on-dock" railway network with 100 kms of track connecting to major North American markets through the Canadian National (CN) and Canadian Pacific (CP) railway networks. The port's network includes 150 main track crossovers. Crossovers take heavy loads from the locomotive engines and rail cars. In some cases this has resulted in settlement and fine particles contaminating the ballast and sub-ballast. The required annual repairs are costly.
Tensar Solution
The Port of Montreal is now incorporating a heavy geotextile and InterAx NX750 geogrid. The combination of these 2 products will provide a durable filtration layer and a stabilization of the ballast particles (20 – 40 mm). Tensar InterAx NX750 provides superior confinement of ballast and sub-ballast particles which will result in improved railway performance. The port is anticipating that this new approach will extend the service interval by 5 times.