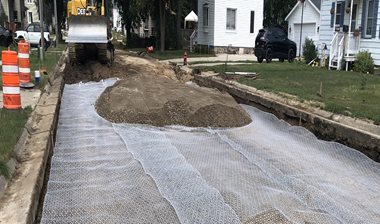 Wright Street
Elkhorn, Wisconsin
The City of Elkhorn saves money and time with Tensar® InterAx® geogrid compared to conventional construction solution.
Owner: City of Elkhorn
Engineer: Foth Infrastructure
Client's Challenge
Wright Street was experiencing alligator cracking which indicated poor subgrade support and was overall in poor condition. Foth Infrastructure, the design consultant for the project, reviewed the soil information and concluded that thick deposits of weak fill material were present. It was estimated that 3 ft. of material would need to be excavated from the site which would prove to be very expensive.
Tensar Solution
Instead of conventional excavate and replace, Foth proposed a design using Tensar InterAx geogrid to stabilize the subgrade. This innovative solution saved the City money and the contractor time off the construction schedule. The Asphalt road module in Tensar+™ design software was used to determine the traffic capacity and adequate design section. Ultimately a design section with 4 inch asphalt and 11 inch aggregate over InterAx NX850 geogrid with no additional undercut was selected. To ensure this design would be an adequate construction platform for asphalt paving operations, constructability checks were done in the "Pass a Proof Roll" and Unpaved Road modules of Tensar+ software.