Residential
Cost & time savings for residential builders
With the rising costs of building materials coupled with a housing market at an all-time high, residential developers need solutions that increase their bottom line and allows them to build faster. You also need to balance those cost and time savings with environmental requirements and the aesthetic curb appeal required by the owners and eventual homeowners.
From subdivisions to multi-family complexes, Tensar's proven technology helps you makes the most of all available land, reduce costs and required materials, and speed construction.
Foundations
Weak and variable soils pose a major threat to the performance of any structure's foundation, especially those in areas prone to seismic activity. The costs associated with conventional foundation improvement solutions can also be detrimental to a project. Tensar geogrid technology creates a firm foundation for engineered structures, such as buildings and retaining walls. This lower cost solution provides an improvement over conventional foundation improvement methods such as over-excavation/replacement, chemical stabilization, and even deep foundations.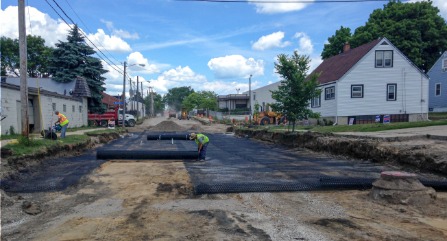 Roads & Driveways
Weak or variable ground presents a considerable challenge for road and driveway developers. Tensar geogrids can reduce aggregate and/or asphalt layers by up to 50%, while offering the same or enhanced performance. By stabilizing the road or driveway base layer with Tensar geogrids, developers can shave days off construction schedules, minimize excavation and the need to import/export, and offer the owners a more sustainable pavement structure.
Additionally, when wet or cold weather strikes, Tensar geogrids can stabilize soft soils so that construction can continue no matter what Mother Nature brings.
Walls & Slopes
Slopes and retaining walls can maximize available land space while enhancing aesthetics. Tensar offers a variety of mechanically stabilized earth (MSE) systems to address the complexity of every project. Used in conjunction with Tensar's uniaxial geogrids and Tensar's design support, our earth retention systems provide both beauty and durability.