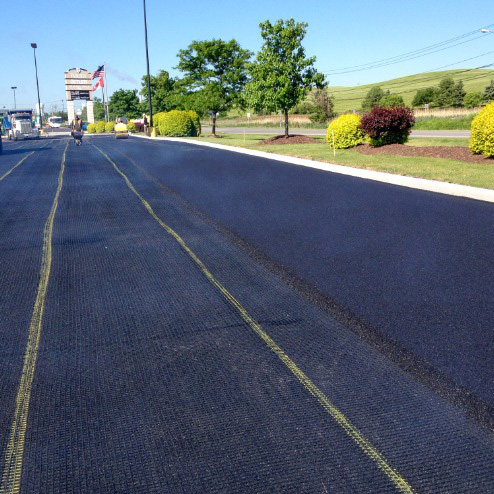 GlasGrid® System
20 Years of Successful Projects
8 Products to Choose From
BI -Directional Reinforcement
Advanced geosynthetic pavement reinforcement
Ideal for flexible pavement surfaces
Fiberglass strands coated with an elastomeric polymer and formed into a grid structure
High tensile strength and high modulus of elasticity
Fully millable and recyclable after its service life
Overview
The GlasGrid® pavement reinforcement system resists the migration of reflective cracks and increases the fatigue life of asphalt overlays. When sandwiched between the leveling course and the surface course in an asphalt overlay, it becomes the hidden strength in the road, turning vertical crack stresses horizontally to effectively dissipate them.
For road construction projects that require a moisture barrier, Tensar also offers the GlasGrid CG (Compogrid) system. Incorporating a lightweight, polypropylene fabric on the back of the main grid component, the GlasGrid CG system provides additional pavement protection on both new construction and pavement rehabilitation projects.
GlasGrid® is a U.S. registered trademark of Saint-Gobain ADFORS. Other foreign trademarks also apply.
SKUs
The GlasGrid system comes in eight SKUs: CG50, CG100, 8501, 8511, 8502, 8512, and 8550.