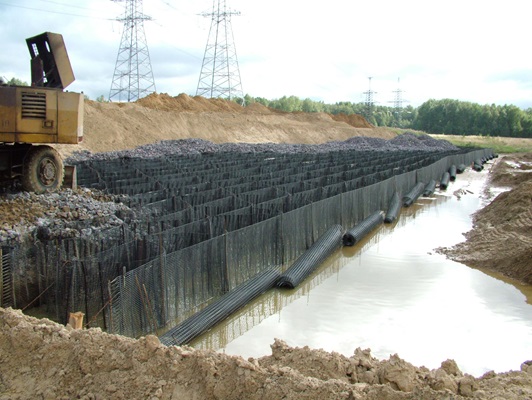 Stratum® Cellular Foundation Mattress System
3D Cellular Foundation Mattress
4 Decades of Proven Technology
Proven foundation improvement solution
Provides stability without the need for piles or other ground improvement measures
No need for excavation of subsoil
Allows faster construction
Suitable for many applications where weak soils are present
Control differential settlement
Overview
When faced with soft foundation soils where expensive piling and other deep ground improvement solutions are unviable or too costly, the Tensar Stratum® cellular foundation mattress system provides an alternative approach for construction, often delivering time and cost savings. With Stratum cellular foundation mattress system, there is usually no need for excavation and removal of subsoil; the cellular foundation mattress is constructed directly over the weak soil and filled with granular material to create a competent mattress system.
Used when new embankments and/or heavy loads are sited over weak and variable ground, including waste deposits and brownfield sites, the Tensar Stratum system creates a cellular and stiff foundation platform that reduces the potential for differential settlement and increases bearing capacity.
The Tensar Stratum system is a continuous cellular structure, rapidly fabricated onsite using a base geogrid and cell walls formed with uniaxial geogrids. If required, the mattress can easily accommodate vertical wick drains to further accelerate consolidation.
System Components
The Tensar Stratum cellular foundation mattress system is primarily composed of a base geogrid and uniaxial geogrids.