What is Tensar?
by Tensar International, on December 05, 2018
Tensar empowers you to achieve cost-effective, reliable engineered solutions. Fueled by an innovative spirit, our industry-leading technology solves the toughest of soil stabilization, earth reinforcement, and site development challenges.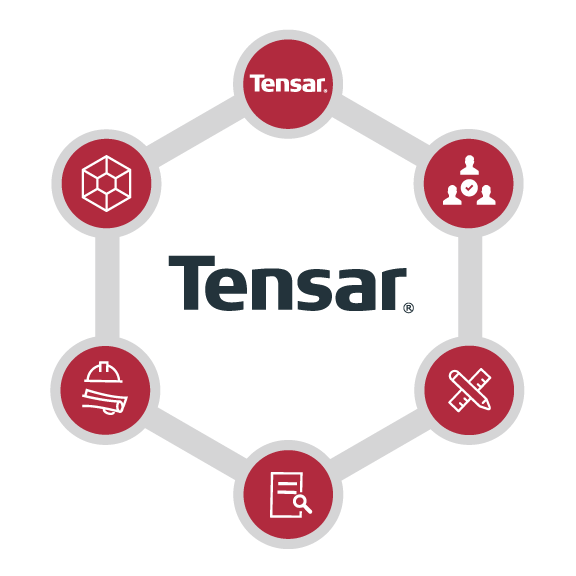 Tensar System Advantage

Our system approach to construction means that we'll partner with you throughout your project's lifespan – from planning and design to installation and on-site consulting – to help cut labor and material costs and get the job done faster. You will experience the convenience of having a supplier, design service, and site support all through one team of qualified sales managers and engineers who support your projects.
Experience
Tensar is the industry leader in soil stabilization and reinforcement. We have developed products and technologies that have been at the forefront of the geotechnical industry for the past three decades. As a result, you know you can rely on our systems and design expertise. Our products are backed by the most thorough quality assurance practices in the industry. And, we provide comprehensive design assistance for every Tensar system.
Site Assessment
We can partner with any member of your team at the beginning of your project to recommend a Tensar Solution that optimizes your budget, financing, and construction scheduling.
Design Assistance
Experienced Tensar design engineers, regional sales managers, and distributors will develop budget estimates and proposals to help you evaluate your best construction options and determine the most cost-effective approach. You can also try out our free, cloud-based design software Tensar+™.
Specification
Our value-engineered solutions feature stamped drawings with precise construction details. Changing site conditions can be quickly addressed in the field or in our Engineering Department.
Site Support
Tensar regional sales managers and our distribution partners can advise your designers, contractors and construction crews to ensure the proper installation of our products and prevent unnecessary scheduling delays.
Whether you are an engineer, contractor, or owner –
We want to help you design and build with confidence.
For more information about our solutions and their applications, keep scrolling >>>

Geogrids are a category of geosynthetic and are used to provide the functions of: reinforcement, stabilization, and filtration. Learn more about how they are able to add to or enhance the functions of conventional materials to make construction more efficient, cost-effective, and reliable. Click Here to Learn More About Geogrids

In almost any construction project, working on weak or soft soils presents considerable challenges for soil stabilization. Tensar's technology and expertise of ground stabilization not only improves site performance but is proven to reduce costs and environmental impact. Click Here to Learn More About Soft Soil Solutions.

In pavement structures, Tensar geogrids create a "snowshoe effect" over soft subgrades by locking aggregate particles more efficiently during compaction, stiffening the granular platform, and reducing subgrade stress. Click Here to Learn More About Roads, Pavements, and Surfaces Solutions.

Tensar's asphalt pavement solutions are a cost-effective and easy solution to extend the service life of asphalt overlay applications. Tensar offers two geosynthetic interlayer systems that improve the performance of asphalt layers in new construction and pavement rehabilitation. Click Here to Learn More Asphalt Reinforcement Solutions

Tensar's Grade Separation Solutions owe their long-term performance and durability to high-strength Tensar® Uniaxial (UX) Geogrids. These geogrids are highly resistant to chemical or biological degradation and can be used with a wide variety of backfill materials. Click Here to Learn More About Walls & Slopes Solutions