Paving Roadways with Geosynthetic-Reinforced Chip Seal (GRCS)
by Jeff Rashe, on November 16, 2022
Asphalt pavements using geosynthetic reinforced chip seal (GRCS) see reduced maintenance costs over their service life. That's because GRCS delays deterioration or can rehabilitate roads back to useful service. The performance of GRCS is attributed to the combination of a high strength paving mat combined with the high total asphalt content provided by the polymized emulsion used with the double chip seal. The GRCS system greatly reduces the rate of aging and greatly increases the time the system stays ductile and functional.
A GRCS is a Double Chip Seal on Top of a High Strength Geosynthetic Paving Mat.

1. It consists of a high strength paving mat installed into a heavy application of hot PG grade asphalt tack ensuring full saturation of the mat.
2. The paving mat is immediately rubber tire rolled into the asphalt tack to ensure full saturation and embedment. Sanding is normally required.
3. After sweeping excess sand, a double chip seal is installed on top of the paving mat
4. The paving mat effectively holds the hot asphalt binder and chips in place to form a long-lasting flexible, impermeable surface, providing moisture-proofing and low-cost resurfacing.
The Benefits of GRCS
GRCS has been used successfully for over 30 years to transform roads that are beyond their useful life back into serviceable, wellperforming roads. The benefits include:
1. Double the life of a chip seal roadway
2. Eliminating the need for future crack filling
3. Reducing reflective cracking
4. Providing a moisture barrier to keep the base strong and dry
5. Improving chip retention
6. Functioning as a UV barrier layer for the underlying asphalt pavement mitigating oxidation of the asphalt pavement below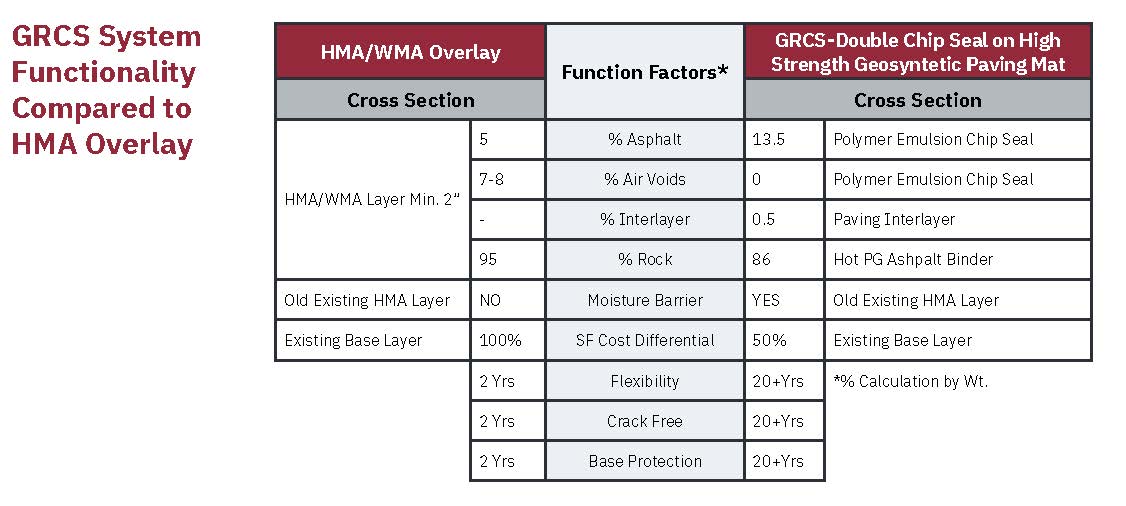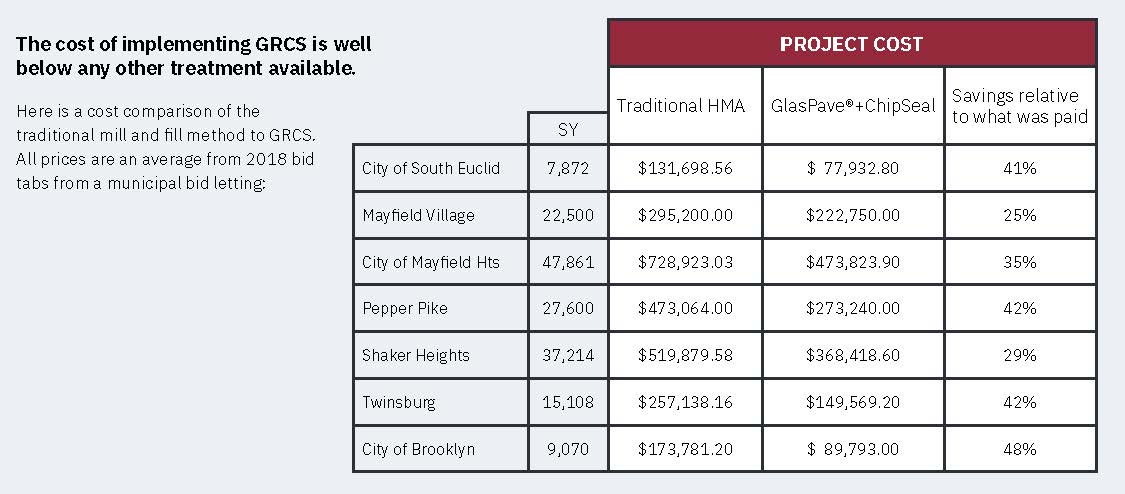 Real World Performance

Owner: Franklin County, OH Engineers Office
Location: Schleppi Road in New Albany, OH between Walnut Street and the Delaware Co/Franklin Co. Line
Amount: Approx. 15,000 sy of GlasPave paving mat

The GlasPave 25 paving mat was placed over the existing road surface with a double chip on top, then
cap sealed and stripped. More than three years post-construction, there are no cracks in the GP25 section. Several cracks measuring 100-150 ft. were found north of Walnut St. where no GlasPave was used.