AmeriGrid Geogrid Stabilization Solutions
by Tensar International , on May 10, 2021
AmeriGrid Geogrids – Do It Once. Whatever materials you use on a job, the measure of their success or failure is your bottom line.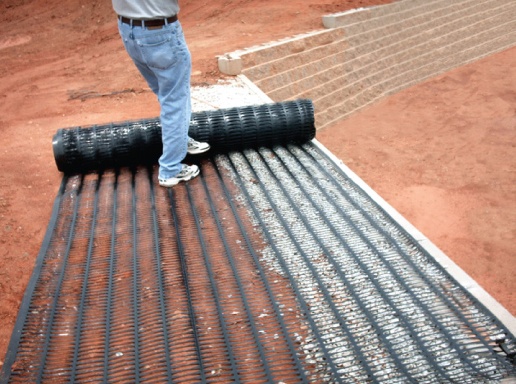 AmeriGrid Geogrids help contractors improve their bottom line by saving them time, money, and materials. The lightweight rolls are easy to handle and cut in the field, and make it simple to adapt to curves and projections. A simple overlap is sufficient for adjacent rolls, no sewing is required. Our products are 100% UV resistant and will not rust, leach or degrade in direct sunlight. Do It once. And on to the next project.
What Is Geogrid?
Simplify Trenching Construction with AmeriGrid
Using AmeriGrid on Your Farm/Ranch for Ground/Gravel Stabilization
---

AmeriGrid Hardscaping Geogrid's unique triangular structure, one of construction's most stable shapes, locks aggregate in place to provide greater stability and stiffness under gravel/sand to fortify the prepared ground under a patio or pathway. The stability provides the best solution for building low-cost, long-lasting and more reliable trafficked surfaces that won't sag and shift out of place.
Download Installation Guide Download Specifications
---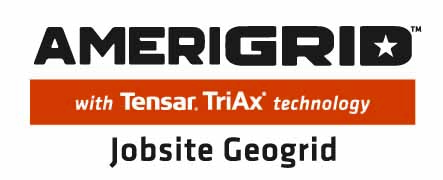 AmeriGrid Jobsite Geogrid handles soft soils with ease and provides a strong construction platform. This product is easily shipped to your site and standard roll sizes make this geogrid easy to maneuver with minimal waste. Because the rolls are easy to install, use less aggregate fill, and require no skilled labor or specialized equipment, AmeriGrid Geogrid helps you get in, get out, and get the job done on time.
Download Installation Guide Download Specifications
---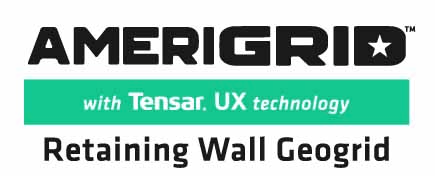 AmeriGrid Retaining Wall Geogrid, with Tensar UX technology, is designed to easily and efficiently reinforce soil slopes (RSS) and segmental block retaining walls (SRWs). It is manufactured using select grades of high-density polyethylene (HDPE) resins that resist elongation, or creep, when subjected to high loads for long periods of time. Unlike most that are installed perpendicular to the face of the wall or slope, AmeriGrid Retaining Wall Geogrid is rolled out parallel to the wall or slope face, thus maximizing the coverage of the geogrid and minimizing the amount of cutting required.
Download Installation Guide Download Specifications
Topics: