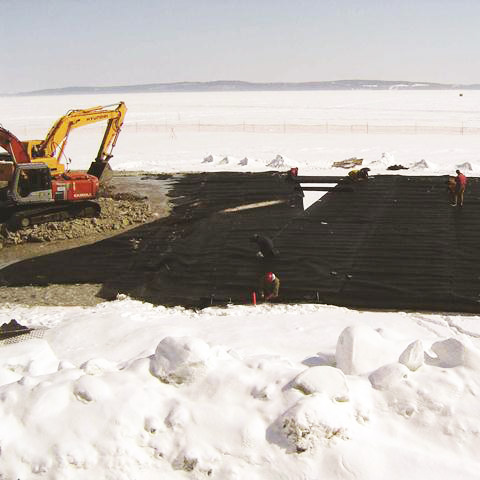 Triton® Grid Composite System
100% UV Resistant
8+ Primary Applications
Designed for marine applications
Ideal combination of geogrid and geotextile - all in a single composite product
Improved foundation and filtration layer for a broad range of applications
Resistant to installation damage and chemical or biological long-term degradation
Overview
The Triton® grid composite system is specially developed for use beneath riprap and armor stone. By combining Tensar geogrids with geotextiles, grid composites provide an improved foundation and filtration layer for a broad range of riprap, rubble-mound structures, and similar installations.
The primary purpose of Triton grid composite is to improve service life and performance, thereby reducing long-term costs for maintenance, repair, and replacement. However, it can also facilitate initial cost savings by eliminating more expensive alternatives, such as graded aggregate filters, excessively thick sections, over-excavation of soft subgrades, or re-grading of steep slopes.
SKUs
The nominal roll size for Triton grid composite is 12ft wide by 164ft long.