Petrochem 24/7 Access Ensured
by Scott Phillips, P.E., on October 30, 2020
With the Gulf Coast taking a beating this hurricane season and the fall rainy season upon us, owners of petrochem sites want assurances that contractors will start and stay on their construction schedule no matter what the weather. While water wagons for dust control are in use today, the same site could be totally inaccessible next week. It's no wonder that owners, contractors and specifying engineers are using Tensar FilterGrid or Triax Geogrids to ensure both accessibility and constructability, to reach bolts-up on schedule.
Tensar TriAx Geogrids provide unparalleled confinement of the aggregate fill to improve the load distribution, reduce the required fill thickness, and enhance the long-term performance of Petrochem sites' working surfaces and roads. However, when the insitu conditions require both filtration and separation, non-woven geotextiles are specified in conjunction with the geogrid. When this is the case, TriAx FilterGrid provides a cost-effective solution that allows the contractor and owner to save even more time and money. With TriAx FilterGrid, the fabric is attached at the nodes of the Triax Geogrid and provides both separation and the filtration of fine-grained soils, especially low plasticity silts and clays. You get the proven performance of Triax with the added benefit of a non-woven geotextile – combined in a single roll, saving the contractor and thus the owner. And, FilterGrid can even be installed in standing water with CBR's as low as 0.1, allowing for bridging-over and constructing on sites one can barely walk through.
For sites that will experience very heavy loadings (i.e., axle-loads of 50,000 pounds and more) a layer of Triax Geogrid can be installed in the section above the FilterGrid. By doing so, the long-term performance of the working surface, laydown yard or haul road increases exponentially, further ensuring the facility's ability to have all-weather, 24/7 access. Here is just one recent example: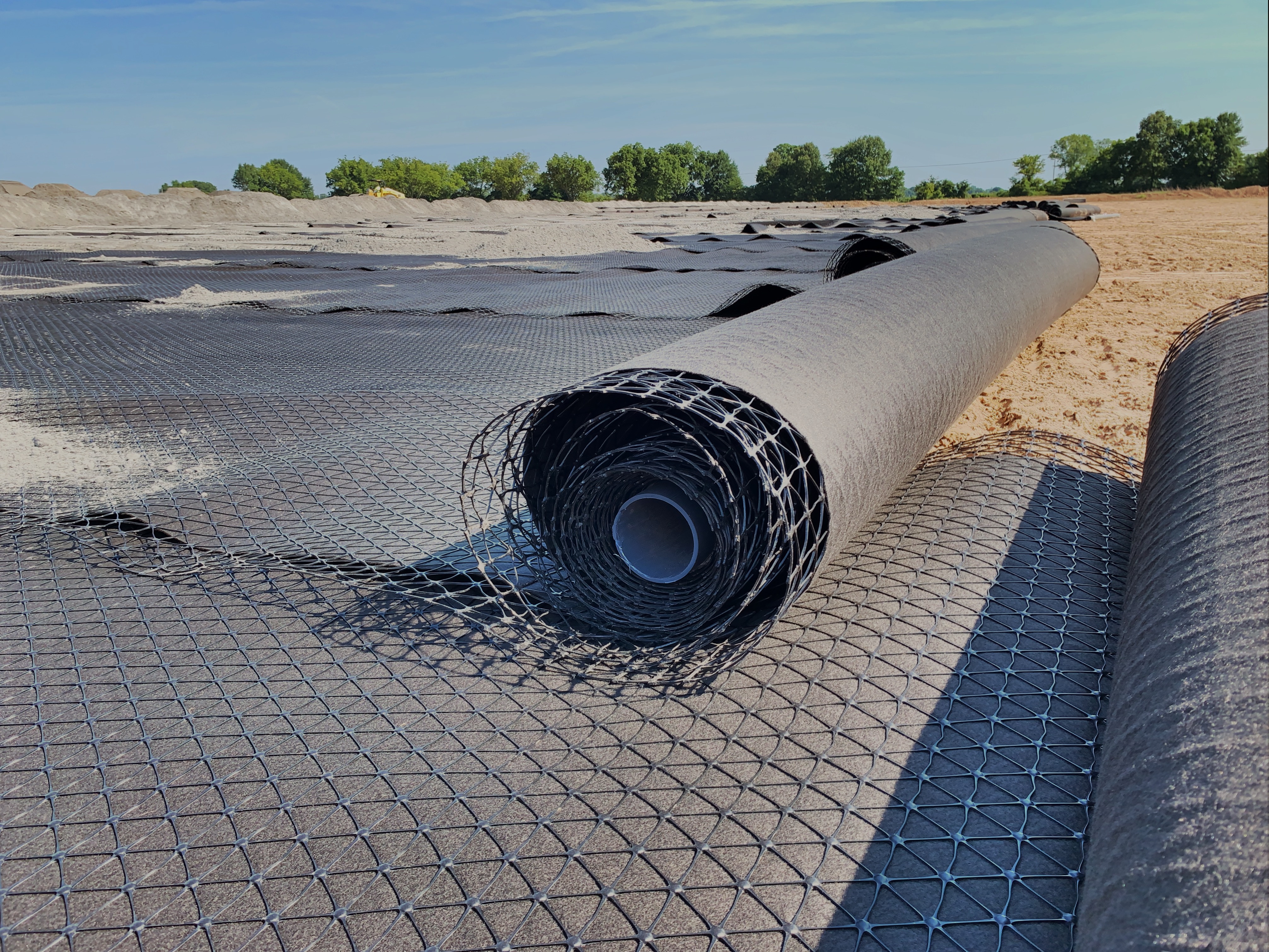 Here, FilterGrid is being directly on existing natural ground, and will also include a layer of TriAx in the section. The completed working surface will be a storage yard for very heavy equipment and supplies, and will be extensively trafficked with 65,000-pound axle loads in all weather conditions.
To learn how TriAx Geogrid can benefit your site in nearly any weather condition, visit our resource center. There, you'll find helpful tools, case studies and articles that will keep your site going 24/7.
And, when you need superior ground stabilization performance combined with separation function of a fabric, consider TriAx FilterGrid. Click the button below to learn more about this cost-effective solution.

Have questions? Contact Scott Phillips, P.E. Tensar's Industry Marketing Manager - Oil & Gas and Petrochem for North America.
Email: SPhillips@tensarcorp.com
Phone: (318) 340-6204