Triton Marine Mattress Fabrication and Installation
by Steve Williams, P.E., on May 18, 2022
Construction in coastal areas has never been easier with the development of the Triton® Coastal & Waterway Systems from Tensar. Flexible and resilient, Tensar's Triton Marine Mattresses adapt to the most difficult conditions, provide durable solutions that reduce costs, and resist scour far better than rigid systems. And because they feature Tensar UX Geogrids, they resist all naturally occurring forms of chemical, biological and environmental degradation – from saltwater to industrial runoff to contaminated sediments. That's why they're often specified for aggressive site conditions where other types of materials would rapidly deteriorate.
A Triton marine mattress or "gabion mat" is a cage structure composed of strong yet flexible Tensar® UX Geogrid filled with aggregate or natural fill material. The mattress is integrated with vegetation to create highly resilient, flexible cells. That flexibility allows the Triton Systems to conform to land contours and irregular subgrade conditions far better than conventional solutions. They are also available in various styles and thickness options to meet specific project requirements. And, by utilizing some unique deployment techniques, Triton mattresses can substantially reduce overall project cost when compared to conventional solutions such as riprap.
Watch this short overview that explains the staging, fabrication and installation of Triton Marine Matresses. For complete instructions and special considerations,
download the Triton Installation Guide
.
Triton Mattress Chosen for Ease of Constructability and Durability at Kennedy Space Center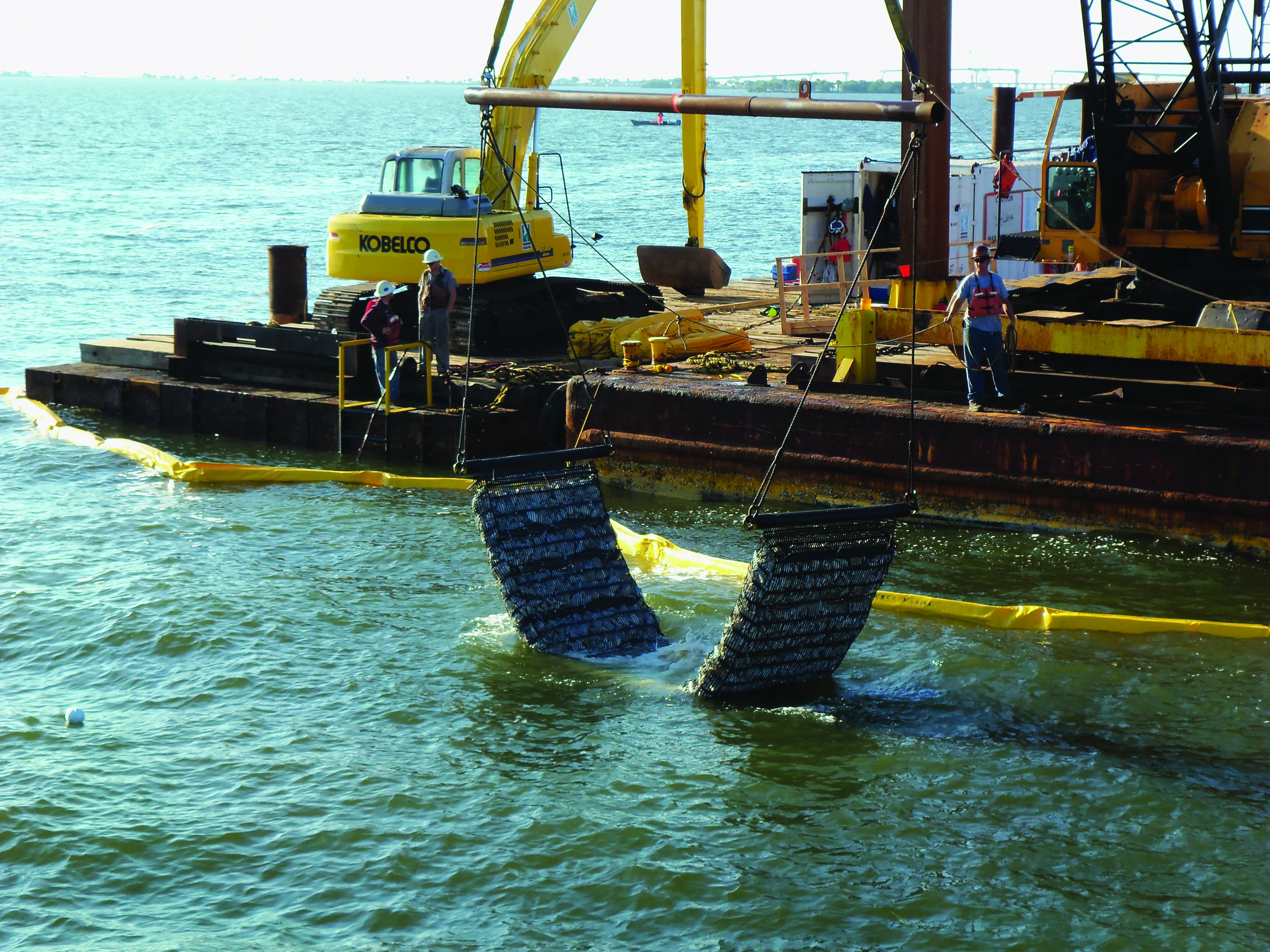 When the Kennedy Space Center needed a solution to address scour around four bridges throughout its channel and fender system, they new the project would present a challenging environment. The revetment system would need to be installed at depths of approximately 20
feet, amid high water velocities and with limited visibility and overhead clearance. The owner and consulting engineer recognized several benefits of the Triton mattress sytem, including the fact that the armor units could be locally constructed and customized on shore prior to installation. And since the Triton Marine Mattresses go in as a discreet size they can be positioned using GPS which gave assurances that installation was done correctly.
Download the Project Profile

To learn more about the advantages of the Triton marine mattresses or to find your local distributor visit our website.