Caltrans Bets on GRCS
by Dennis Rogers, on October 26, 2021
Serving as the District Maintenance Engineer for Caltrans' District 9 (Bishop) for over 22 years, John Fox has overseen thousands of miles of pavement preservation treatments including polymer modified gap graded pavements, dense-graded pavements, asphalt rubber seals, microsurfacing, and a geosynthetic reinforced chip seal (GRCS) to name a few.
One of the challenges of managing a large roadway network is prioritizing rehabilitation and maintenance projects with a finite budget. Key mainline and arterial roads demand high performance to ensure safety and efficiency. One critical project targeted for rehabilitation in Caltrans' District 9 was on US Highway 395 located in Inyo County, California. This high emphasis route is a major freight corridor on the National Highway System, with 6500 average daily traffic with 15% heavy truck traffic. The highway is located 4,000 feet above sea level and is subject to a variety of weather and climate conditions, including snow.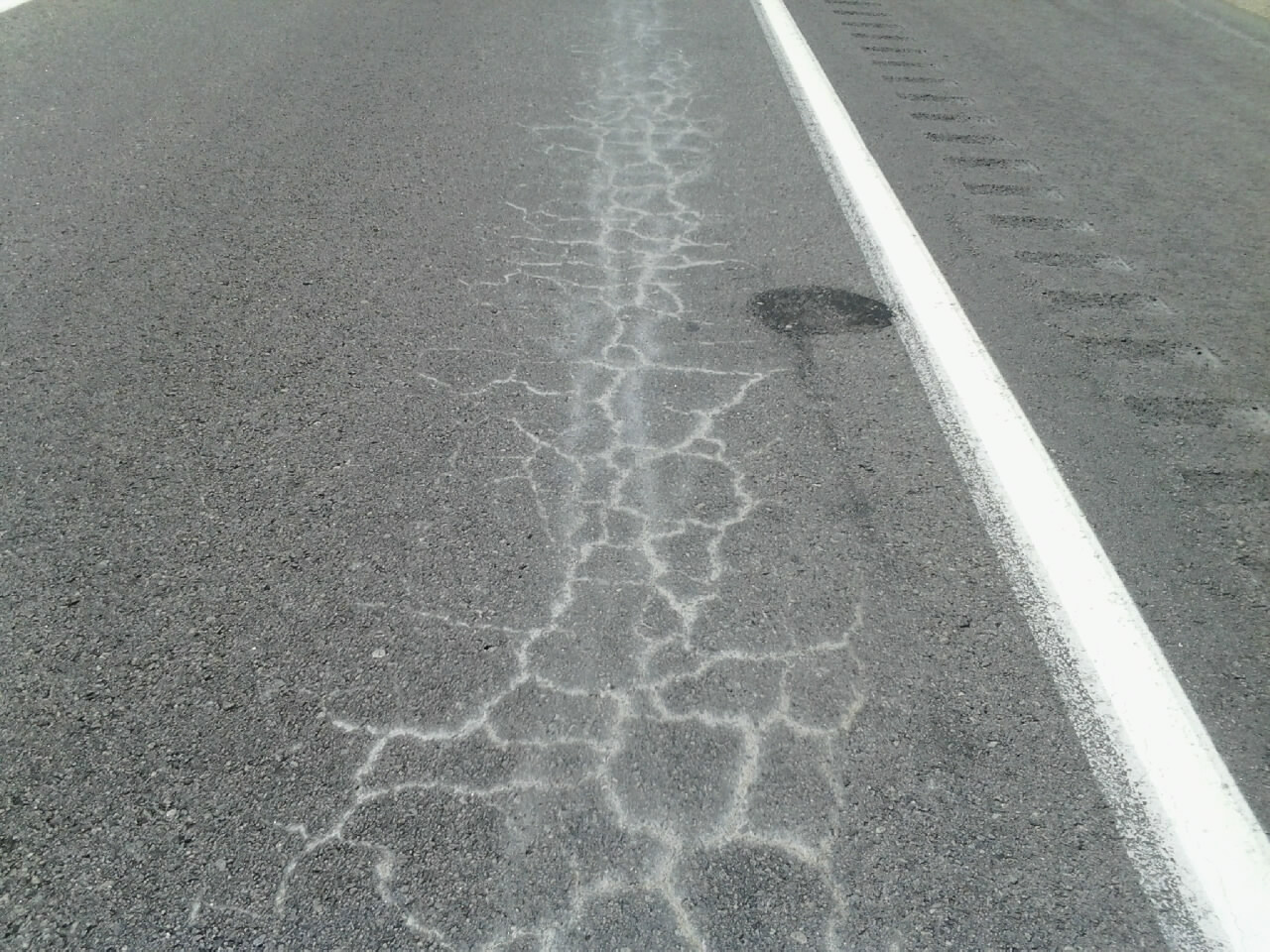 In 2009 Caltrans completed the Blackrock 4-lane, a 14-mile long widening on US 395 from two lanes to four, with a new southbound alignment. According to John Fox, "A year after completion, I noticed the new pavement on the southbound lanes appeared dry and that there might be some asphalt mix segregation, so we placed a maintenance fog seal in 2011. This should have been a textbook example of successful pavement preservation. However, in 2012 I started to see alligator cracking in the wheel tracks. Since the cracking was isolated to a 1500-foot section at the north end of the project I figured we had some pumping base, but as it turns out we were going over an old lakebed.
We had some localized, weak subgrade, no problem, we can handle this. Unfortunately for Caltrans, the cracking continued to progress and expand to the entire length of the 14-milelong widening project.
"By 2014, I realized I had a serious problem, and this was not in my 10-year plan," said Fox. "I didn't expect to do anything on this road other than a preservation chip seal around year 10". But after reassessing the pavement, it was clear a new preservation plan was needed. Based on the aggressive cracking, I expected that a full depth reconstruction would be needed in 15 or 20 years.
About that time, I received a sample of 'GlasPave50' paving mat from Tensar Corp, and I'd never seen anything like it - a biaxial, high tensile strength paving mat with a high melting point - and it's completely millable for future recycling operations. It struck me that this product would be perfect for a high-performance geosynthetic reinforced chip seal (GRCS) application on US 395".
GRCS can often extend the life of the existing asphalt pavement by providing an all-weather surface-wearing course and improved skid resistance while increasing the load-bearing capacity by keeping aggregate base materials dry with the waterproofing abilities of the surface treatment.
One of the primary benefits of a GRCS is cost. According to Fox, "With an annual budget of $5 million for capital funded preventive maintenance, we have limited options for large rehabilitation projects. If we construct a two-tenths (0.20') overlay, the cost would be over $20-million, and I expect we'd see lower performance than with a GRCS. With the inclusion of GlasPave50, the GRCS cost was estimated at $3 million. I now have a price and performance win/win."
In addition to budget constraints, there were several other key objectives for the US 395 GRCS system. As Fox put it, "I need a treatment that will seal a lot of cracks. The extent of existing cracking goes beyond what we can seal with a wand. I needed to arrest the progression of this cracking and squeeze more service life out of this pavement. I'm looking for a minimum of 10 years, hopefully, 15 years. With a combination of the asphalt rubber chip seal and the GlasPave50 paving mat, with its biaxial tensile strength, I'm expecting to get some added structural value as well. Lastly, we also wanted to minimize lane closures for the safety of the workers and the traveling public".
Construction time and traffic disruption was also a big factor. To construct a typical medium overlay on twenty-eight miles, 45 working days would be budgeted. But for the GlasPave50 GRCS, the schedule was reduced by over 75% - to just 10 days. Early steps in this project included developing a Construction Evaluation Work Plan and gaining approval from Caltrans headquarters. They also wanted to use this opportunity to collaborate with the California Pavement Preservation Center (CP2C) at Cal State Chico to study and monitor the performance of the GRCS.
Once the system was approved, a test plan and schedule was developed. At the south end of the project several test sections were constructed, which included a Control Section where no treatments were made to the pavement. The test sections included:
A double-asphalt rubber chip,
A double PME chip over paving fabric
A double PME chip over the GlasPave50 paving mat
Evaluations in October 2020 showed cracks progressing in the control section (see below).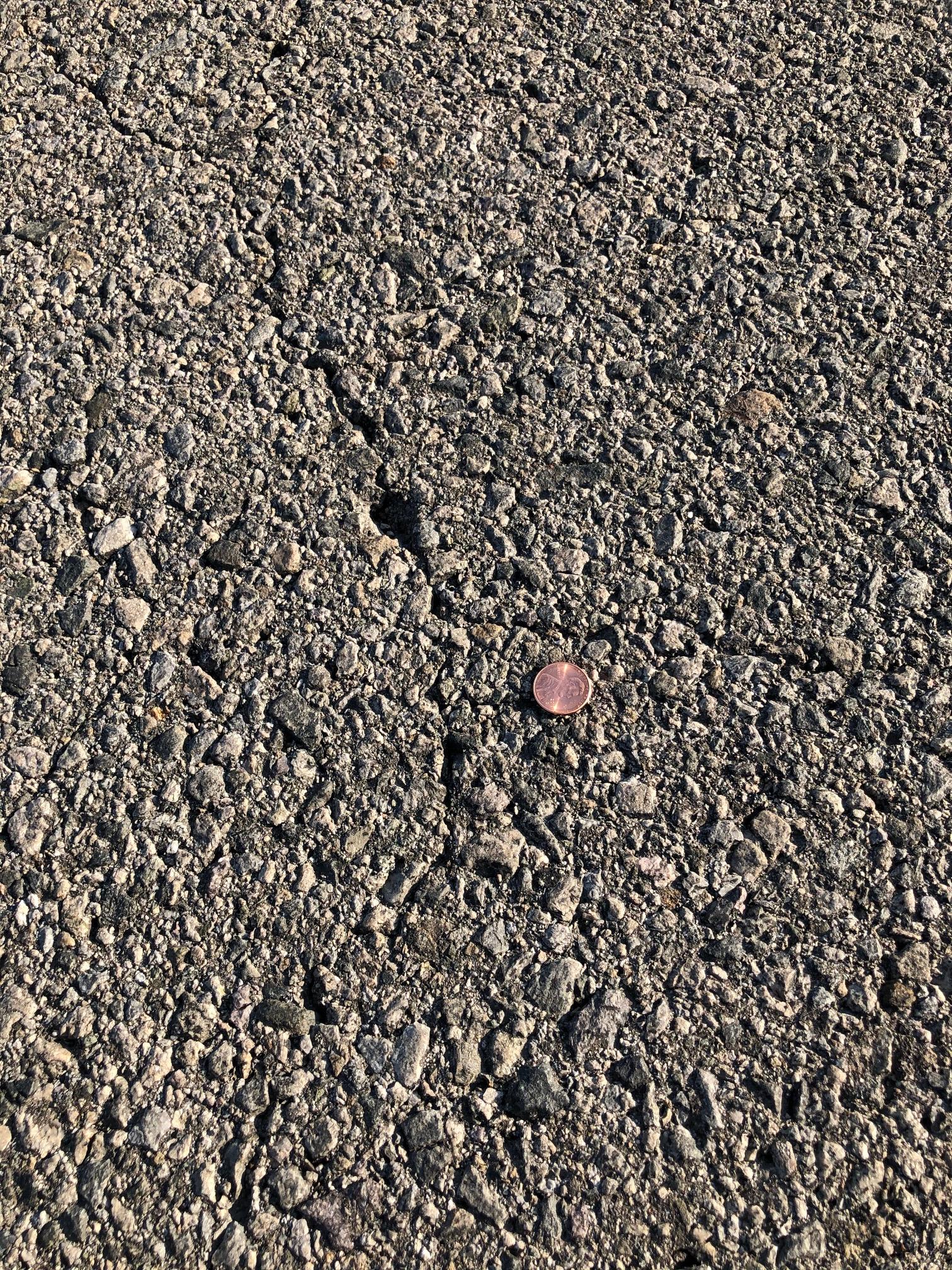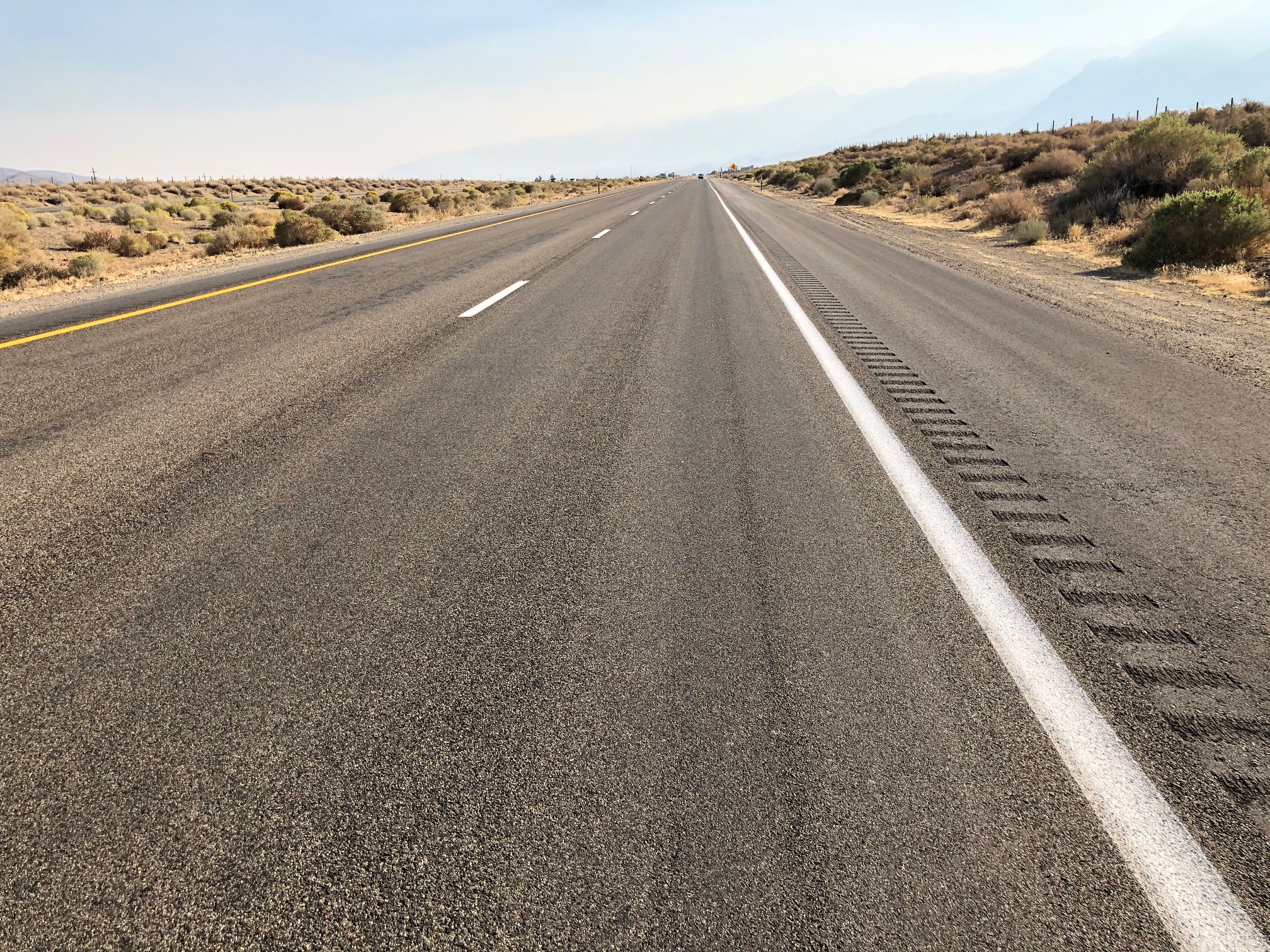 The balance of the project was constructed using a quarter-inch PME chip seal over a 3/8" asphalt rubber chip seal, over the GlasPave50. The entire section that includes the GlasPave50 remains crack-free (see below).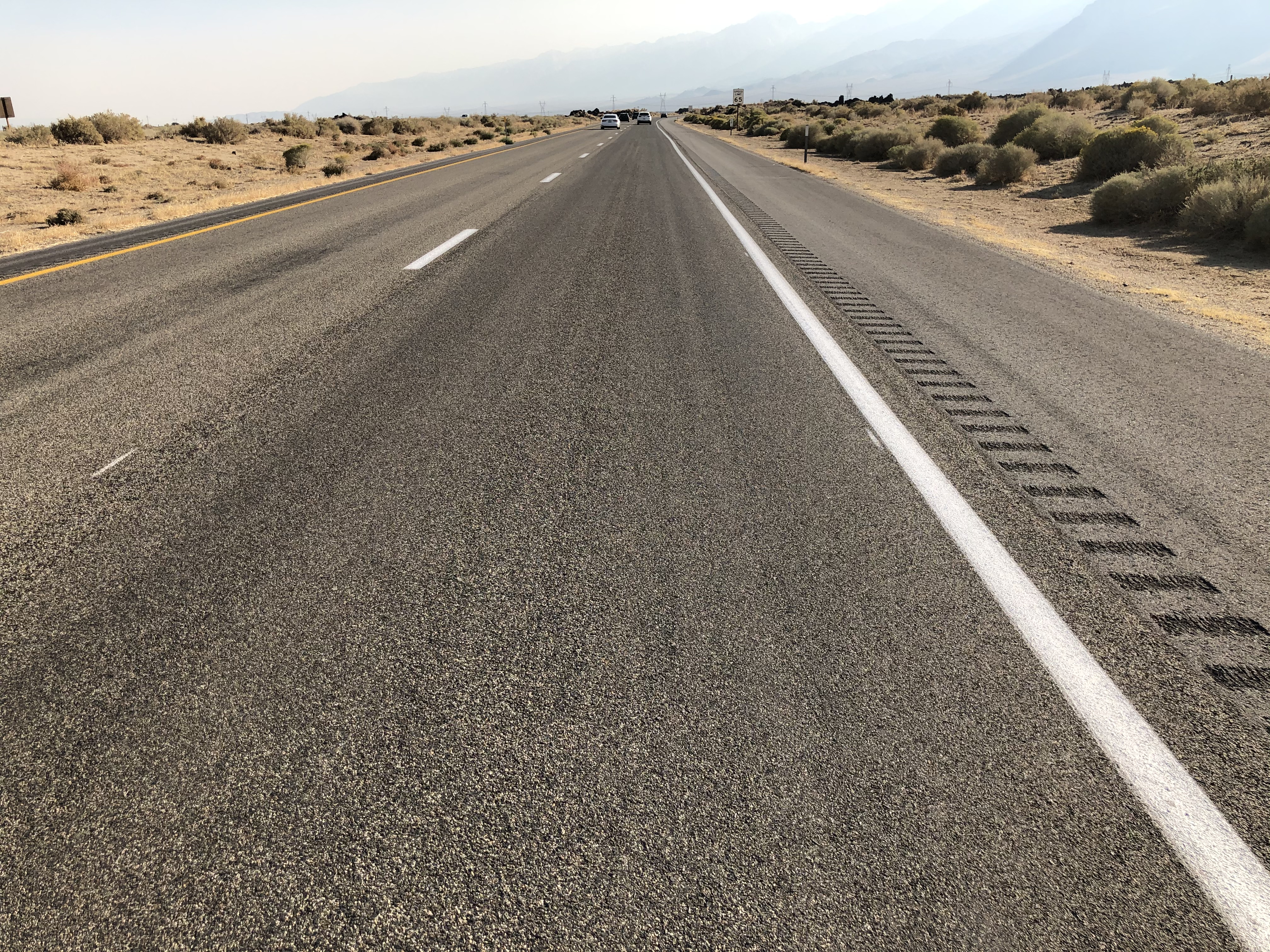 "The thing about GRCS that was a revelation to me after seeing it actually demonstrated with a single PME chip over a pavement reinforcing fabric in 2009, is that GRCS© should keep cracks sealed for a long time to come and keep water out of the pavement and base. GRCSs should eliminate the need for maintenance to perform crack sealing for many years.", Fox remarked.
An unexpected benefit to Caltrans and drivers was the improved ride quality. "A year before this project, we constructed the same double chip with the quarter-inch PME chip seal over the 3/8 asphalt rubber chip seal - just south of Bishop to better understand this double chip process in preparation for this 3/8" GRCS. We had received complaints from the public about the ride quality and noise of our 3/8" chip seals. But the addition of the quarter-inch PME chip substantially reduced the noise and provided a much smoother ride, and the addition of the GlasPave50 seemed to make the ride even smoother and quieter," said Fox. The smoother ride also means less rolling resistance, which should translate into less fuel consumed. These benefits helped contribute towards Caltrans's sustainability objectives, which also helped sell the double chip GRCS to upper management.
"We were very pleased with the outcome," added Fox. "This is a supercharged pavement preservation treatment. There's nothing else out there like this. This sealed cracks, and is expected to slow the rate of distress and provide the extension of service life I needed. It minimized construction disruption and was budget-friendly - with the bonus of a smooth, quiet ride."
For more information contact Dennis Rogers at DRogers@tensarcorp.com or John Fox at john.fox@dot.ca.gov