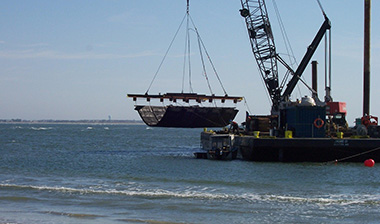 Hereford Inlet Seawall Repair
North Wildwood, NJ
January 2005 - November 2006
Triton Marine Mattresses were used to reconstruct part of the inlet shoreline seawall that had been undermined by tidal scour and storm erosion
Owner/Developer: City of North Wildwood, New Jersey
Engineer: U.S. Army Corps of Engineers (Philadelphia District)
General Contractor: Agate Construction Company, Inc.
Client's Challenge
Strong tidal currents, steep underwater slopes, and deep-water sections meant that traditional methods would have been difficult to implement. The seawall is located on New Jersey's eastern shore with maximum water depths of 60 feet. Underwater visibility is typically less than three feet. Strong tidal currents affect the construction zone. Complete failure of the seawall would have posed a long-term threat to a nearby church and other infrastructure.
Tensar Solution
Tensar designed a special, 4 inch thick Triton Biaxial (BX) Marine Mattress to encapsulate and support the geotextile material. "This is our first experience with Triton Marine Mattresses," says Rich Marzucco, project manage for Agate Construction. "They are easy to work with and follow the contours that they are laid on."
The project owners and consultants selected Triton because they:
Incorporated Tensar uniaxial (UX) geogrids, which had the strength and flexibility to accommodate the site's strong tidal currents
Provided scour protection well beyond the seawall footprint
Adapted readily to irregular bottom conditions
Were constructible even in difficult working conditions
The armor units could be locally constructed and trucked to the job site