Tensar+ Design Software Wins Constructech Top Product Award
by Katie Phillips , on January 10, 2022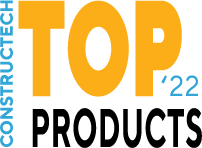 Helping engineers, contractors and owners design and build with confidence is at the core of all Tensar solutions. For years, civil construction professionals trusted our design software, SpectraPave™, to evaluate design options for roadways and other site solutions. Last year, we took civil design to a whole new level with the introduction of Tensar+ software. And now, we are proud to announce that this valuable tool has been named a 2022 Constructech Top Products Award winner.
Constructech Top Product Awards give the 'top' technology designation to companies that have met criteria including a solid, underlying technology foundation and new innovative features to meet the ongoing needs of the construction industry.
"Technology can help construction companies build a more resilient future. Tensar+ software can help by calculating carbon savings and other sustainability metrics—something we all need these days." – Peggy Smedley
Tensar+ design software incorporates the benefits of Tensar geogrids into industry-accepted design methodologies, based on rigorous full-scale testing, while also providing specification generation, along with educational resources to help users make informed decisions. Here's what makes this product so unique: With Tensar+, users can compare design alternatives, automatically generate a performance spec, calculate time, cost, carbon savings, and other sustainability metrics. Tensar brings all this and more to the construction companies that need it the most and it's joining the CMC portfolio to continue that growth.
Tensar Product Manager, Joe Heintz stated, "It's an honor for Tensar+ software to be recognized by Constructech with their Top Products award for the second year in a row. We appreciate all the support and feedback from our customers so far, as we continue to develop better tools and methods to provide even greater value to all stakeholders across the construction industry."
Put Tensar+ to work on your next project. Access this free, cloud-based software here and start designing today.