Congressman David Scott Tours Tensar's Georgia Factory, Supports Key Infrastructure Initiatives
by Tensar International , on June 20, 2018
"I believe the number one domestic challenge the U.S. faces is rebuilding our crumbling infrastructure," said Congressman David Scott (D-GA) during his May 2, 2018 visit to Tensar's plant in Morrow, GA. The month of May includes Infrastructure Week so Tensar has taken the opportunity to recommit to its mission of helping lift America's transportation infrastructure from its current D grade (ASCE's 2017 Infrastructure Report Card) to A+ levels. Putting Tensar's TriAx Geogrid under every road and railway is a key step to insuring that our transportation infrastructure is literally built on solid ground. That's why we partnered with The Railway Engineering-Maintenance Suppliers Association (REMSA) to invite Congressman Scott to meet with rail industry leaders and members of the Tensar team as a part of the REMSA Grassroots Program.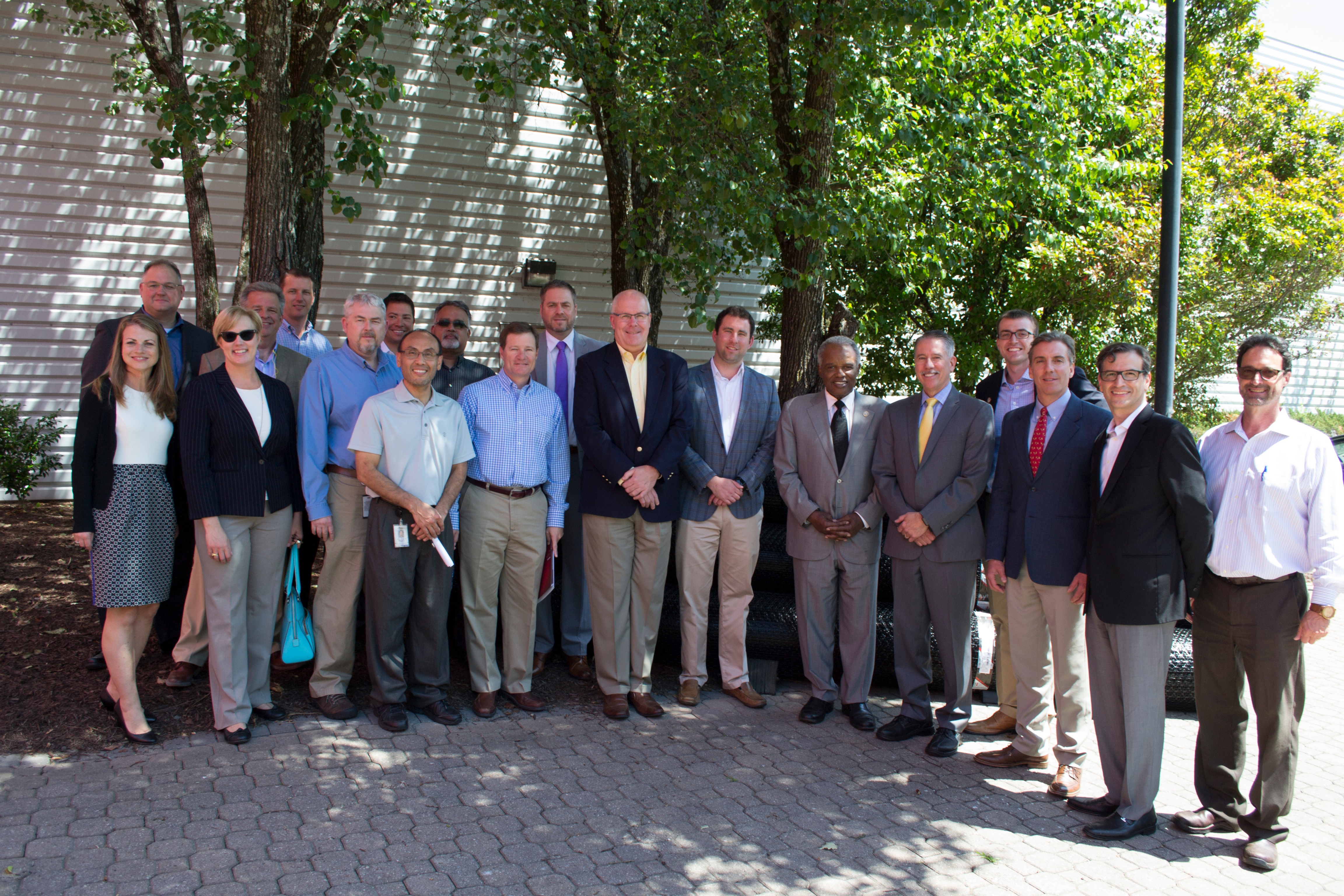 "You know, I have a great affection for the rail industry," Congressman Scott told a packed conference room before our tour of the manufacturing facility. "I don't think you can find another district whose entire geographic layout is so involved with railroads. Atlanta's history began as Terminus – the zero mile post of a railroad line." Clearly a champion of rail for both freight and passenger transport, Scott has been at the forefront of a push to get commuter rail service into Georgia, especially supporting a line connecting from Macon to the South Atlanta region. The project had traction until the Great Recession ripped funding and attention away from it. Still, Scott remains committed to rail as an important component in solving Georgia's transportation challenges.
"I want you to be even more aggressive than I had been about improving our situation," he encouraged the rapt group which included representatives from Norfolk Southern, CSX, Georgia Department of Transportation, MARTA, GoRail, National Rail Construction and Maintenance Association as well as from REMSA and Tensar. "We should use the upcoming Georgia Gubernatorial campaign to put transportation in the region at the top of the agenda."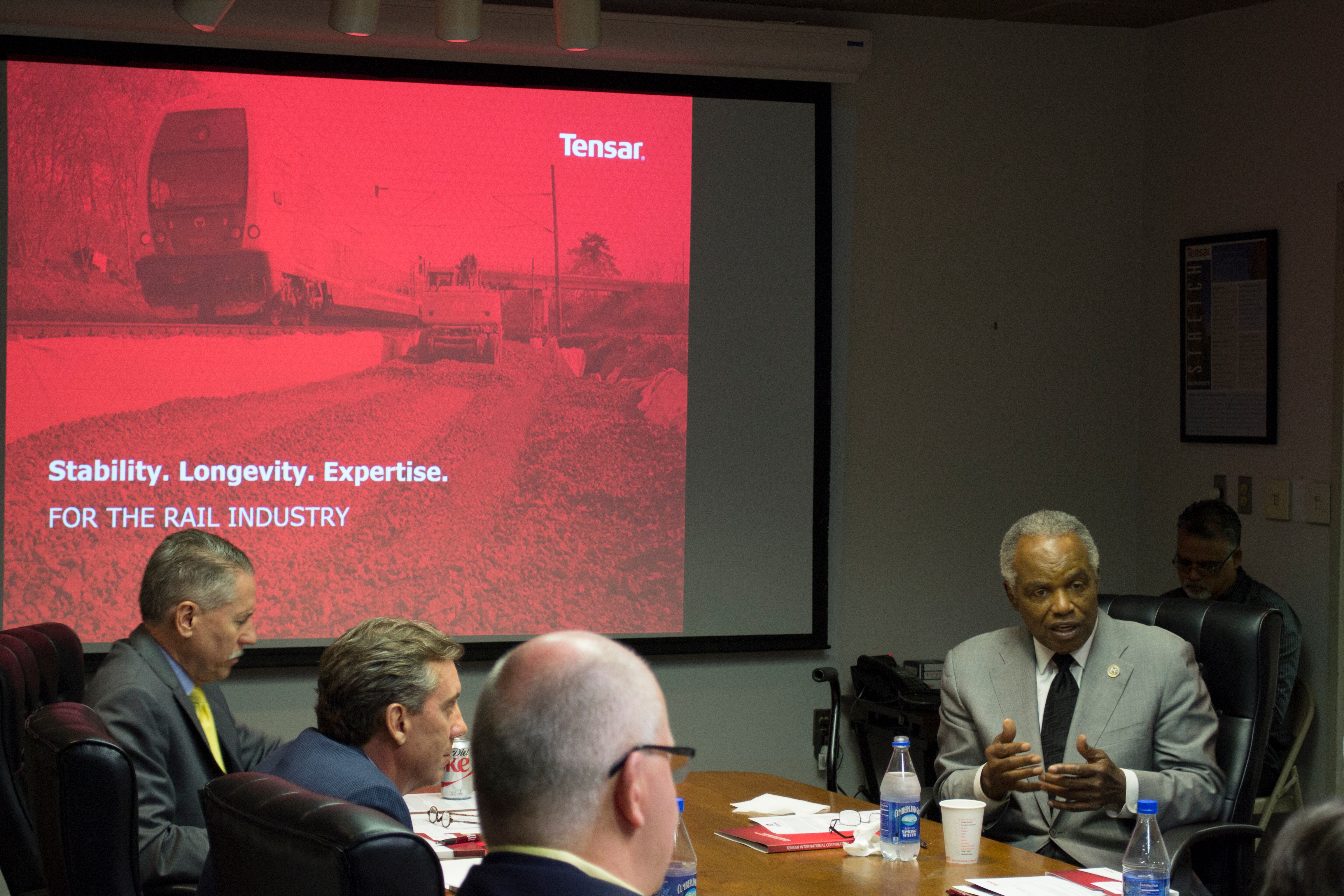 Sean Winkler, REMSA's Director of Advocacy, presented to Congressman Scott three topics on behalf of the group:
Request for Scott's Endorsement of HR721: a bill to encourage investment by short rail companies in infrastructure by providing a tax credit to do so.
Request for Scott's support for sustaining the current weight and length of trucks rather than increasing them.
Thanks to Scott for his support of the recent U.S. House Omnibus Bill that provides increased funding for critical federal programs including robust investments that will help rebuild America's aging infrastructure and bolster economic growth.
After some discussion, Congressman Scott agreed to support the group's position on the two outstanding legislative topics. He also asked for the group's support on a bill that he is championing and which he hopes to link to the upcoming infrastructure spending proposals in Congress. Scott's proposed "H.R. 52: Jobs, On-the-Job 'Earn While You Learn' Training, and Apprenticeships for African-American Young Men Act" seeks to rebuild the Nation's crumbling infrastructure, transportation systems, technology and computer networks, and energy distribution systems by providing on-the-job "earn as you learn" training of African-American young men ages 18 to 39.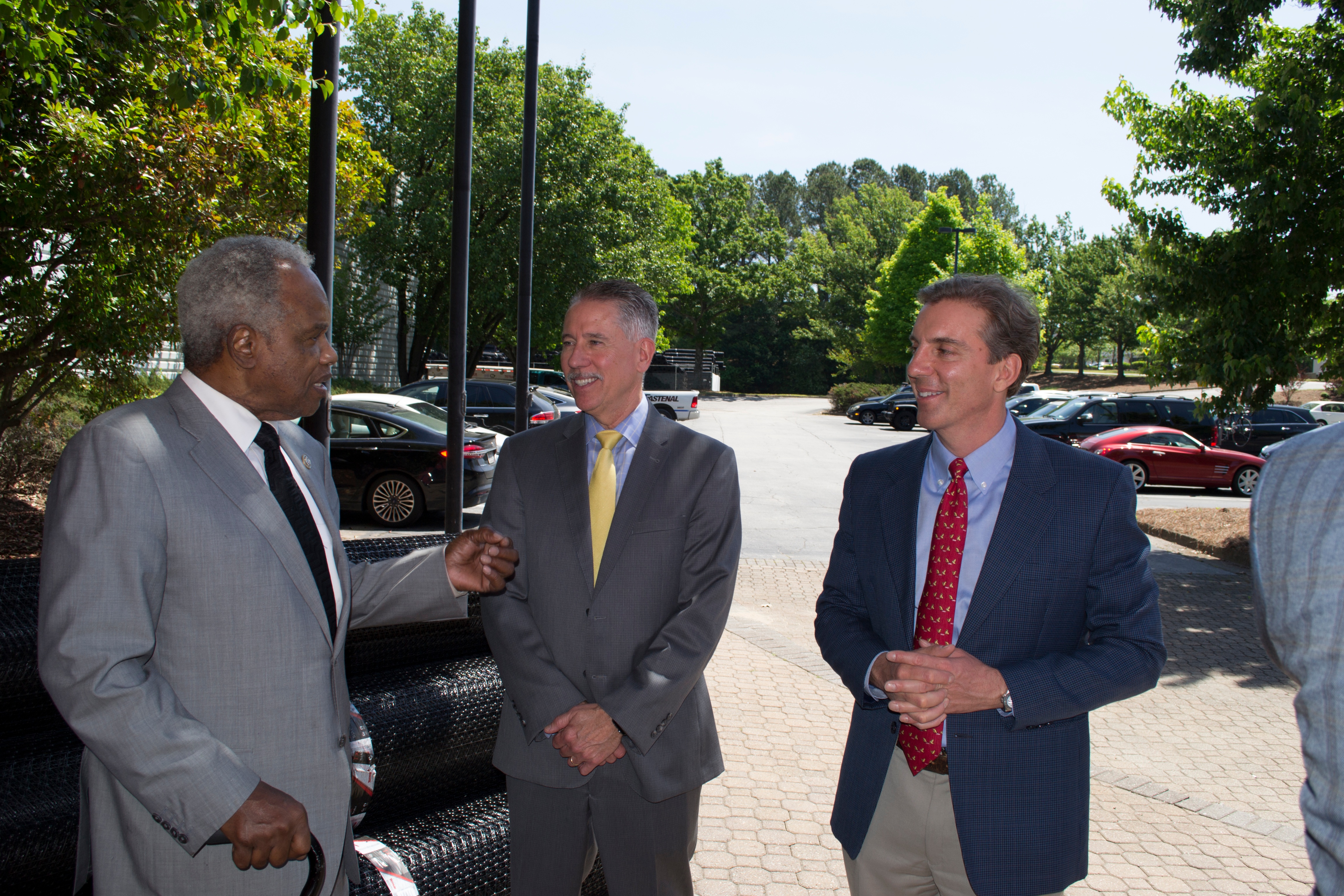 Tensar CEO, Mike Lawrence, provided Congressman Scott and the group with a presentation of the company's geogrid solutions and discussed the importance of modifying rules preventing new innovative technology from being used by DOTs. Congressman Scott agreed that innovation is an essential and under-utilized lever for improving U.S. transportation infrastructure more efficiently. The group then toured Tensar's Morrow factory to demonstrate how the growing facility is being used not just for manufacturing but for research & development on products that will further improve road and rail quality.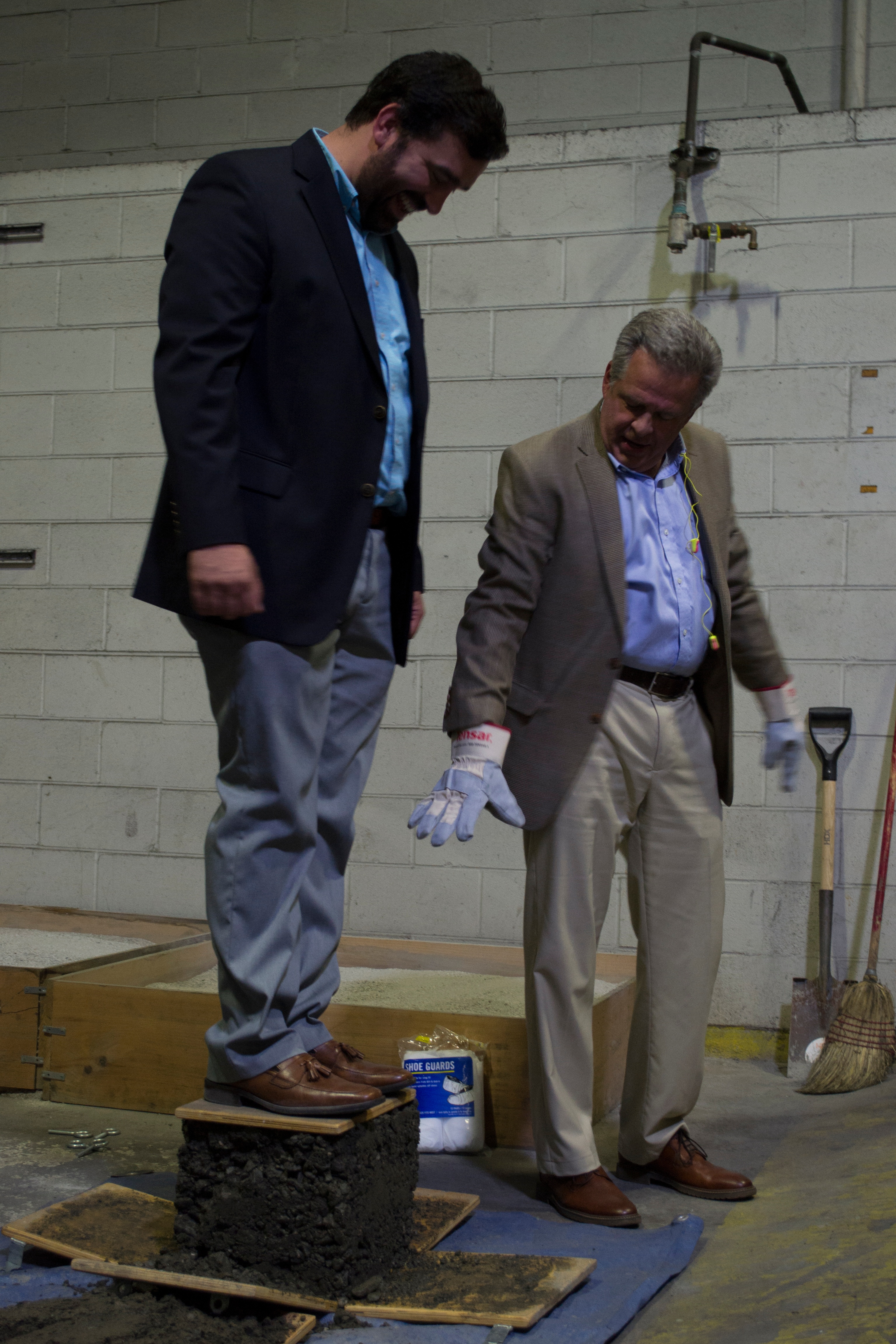 "Box of Rock" Product Demonstration with Bryan Gee (Tensar) and Kevin Riggs (Tensar)
There was a lot packed into this two-hour set of events and we are grateful for all who attended, especially Congressman Scott and his staff. For Tensar, the events left us even more motivated to improve infrastructure through innovative geogrid products that save money and time while they increase the safe, productive lifespan of our nation's roads and rails.
REMSA's Grassroots Program unites railroads and maintenance-of-way suppliers to advocate on our shared industry priorities. To date, our program has hosted 36 Members of Congress at our member company facilities and generated over 250 rail industry and local media articles, highlighting the products and services of our membership. https://www.remsa.org/grassroots
Connect with Tensar's Rail Market Manager Mike Misitigh on LinkedIn