Building Carbon Capture and Storage Facilities to Last
by Scott Phillips, P.E., on September 01, 2023
About a hundred miles from the Gulf Coast of Louisiana, loblolly and southern pine trees tower over a muddy worksite filled with heavy equipment. A powerful new solution to the release of carbon dioxide emissions from power plants and refineries is coming to life: a carbon capture and storage facility that safely sequesters the greenhouse gas. While the rush is on to build such sites as quickly as possible, it is equally important that these sites are well-constructed to ensure all-weather, 24/7 access, resilience and bare minimum maintenance. The most assessable sites begin with the most stable ground.

Rapid Growth Without Cutting Corners

Carbon capture and storage (CCS) provides fossil fuel companies with an environmentally friendly way to reduce CO2. And the business of CCS is booming. According to the "Global Status of CCS 2022" report from the Global Carbon Capture and Storage Institute, the number of new CCS facilities grew by 44% between 2021 and 2022. The report also cites the Inflation Reduction Act, passed in 2022, which includes tax incentives for CCS, and notes that some US states, including Pennsylvania, West Virginia, North Dakota, and California, also passed legislation in support of CCS.

Vantage Market Research reports that the global CCS market is valued at $2.1 billion in 2022 and is projected to reach a value of $7.49 billion by 2030.
These are all great numbers for an industry on the rise that will make a powerful difference in the amount of carbon dioxide released into our planet's atmosphere. Solutions like this are more urgent than ever as the effects of climate change worldwide increase every day. But as owners rush to build new CCS facilities, they should be warned: cutting corners on the access roads, pads and storage areas can lead to expensive short-term and long-term problems. Delays in drilling and equipment maintenance can add-up very quickly.
Infrastructure Challenges
Despite the pressure to get CCS facilities operational as soon as possible, site owners need to be concerned about long-term facility operating costs and the mandatory ongoing access to these sites. CCS sites are much larger than a typical oil or gas well pad and include one or two
carbon injection wells and three to five monitoring wells. At the same time, given their often remote locations,
CCS sites are usually built on very poor, weak or saturated soils. Without careful engineering, insufficiently preparing the ground of a CCS facility during construction can lead to site access problems and unexpected maintenance costs longer term.
It's vital that new CCS projects start with a stable foundation that ensures greater resilience and minimizes maintenance costs over time. This is especially important given that these structures are being built near coastlines and in northern plains, subject to weather extremes that can damage aggregate roads and working surfaces. Access and haul roads that can handle heavy equipment and frequent use must be constructed.
Owners must create strong, stabilized roads, laydown yards and other essential working surfaces that can stand up to the heavy equipment and will not need frequent maintenance in the long run.
A traditional approach to ground stabilization is to
simply haul rock, haul rock and haul more rock – and hope for the best. But, that is expensive, time-consuming, and non-carbon-friendly. Another option is to chemically treat the soil with cement or lime; this solution is also time-consuming to execute, of subjective longevity, and very environmentally unfriendly due to all the pollution from chemical-filled dust. Obviously, when building a facility that will address climate change, more environmentally friendly choices are preferable.
Savvy CCS site owners, engineers, and contractors want

to build CCS facilities in a timely and cost-efficient manner. They also want to minimize the amount, frequency, and cost of maintaining the facilities. Increasingly, these goals are being met by approaching site construction and stabilization with advanced geogrids to stiffen soils and ensure stronger aggregate surfaces requiring minimal maintenance.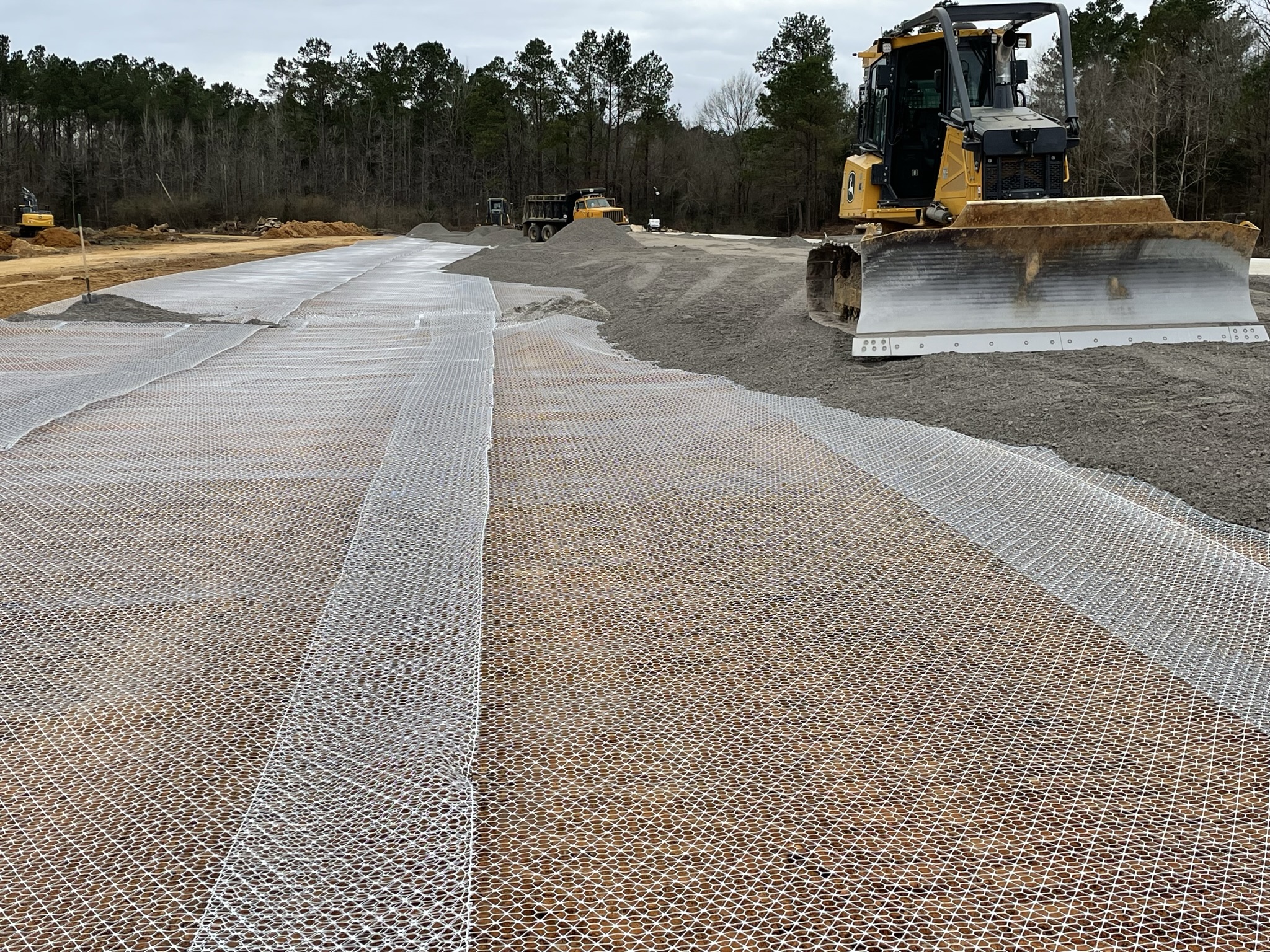 Using Geogrid for Stable, Resilient Infrastructure
Geogrids, a category of geosynthetics used to solve civil and geotechnical challenges, were invented by Tensar, a world-leading manufacturer and provider of ground stabilization and soil reinforcement solutions based in Georgia.
Geogrids create a mechanically stabilized layer for haul/access roads and unpaved working areas. Not only do they stabilize the ground, geogrids make it
faster to build, even in inclement weather; reduce the need for hauling extra rock; and eliminate the need for expensive thick aggregate sections. While geogrids were invented over forty years ago, Tensar's ongoing scientific innovations are targeted at constantly improving infrastructure resiliency and sustainability. The result is its high-performance product line, InterAx® geogrid.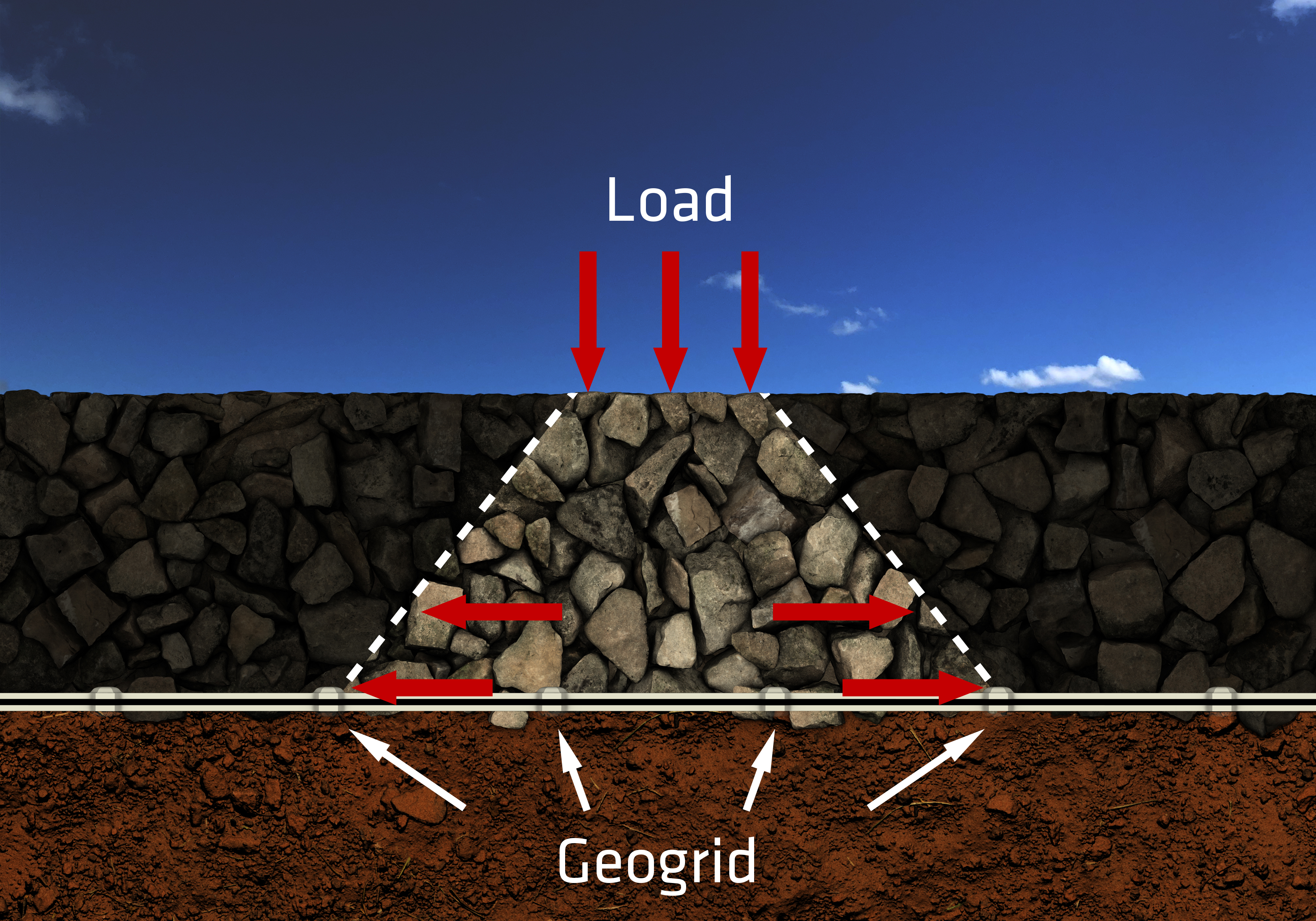 InterAx is the most advanced geosynthetic on the market for trafficked surfaces making it ideal for heavily trafficked surfaces, working platforms, and foundations of CCS facilities. Tensar InterAx geogrids use advanced material science to improve compaction and restrict movement over time, retaining stiffness long-term and further enhancing performance. The optimized geometry confines the maximum amount of granular fill possible, creating the most efficient and stable layer. That means you can get the same or better performance with a thinner geogrid-stabilized layer, leading to lower haulage costs and reduced construction time. Less aggregate is required to meet project requirements, saving costs, time and carbon emissions, and contractors can choose from a broader range and quality of aggregate types and gradations.
Tensar geogrid solutions are the most rigorously tested geogrids in the world. Testing includes laboratory evaluations, Accelerated Pavement Testing programs, decades of in situ field testing using different materials and loading conditions, third-party reviews, and ongoing pavement performance monitoring.
For over 50 years, Tensar has helped construction professionals around the world find cost-effective solutions using industry-leading geogrid technology. With InterAx, the dramatic improvement in soil interaction and trafficking performance means long-term benefits for site owners, with resilient surfaces that will withstand challenging environmental conditions. Now, Tensar has worked on multiple CSS projects around the country on the infrastructure needed to get these new facilities up and running.
Geogrids in Action at a CCS Site
A major energy company, chemical manufacturer, and carbon management leader is investing heavily in carbon capture and storage to accelerate global CO2 emissions reduction.
The existing ground of the Louisiana site where the company sought to install a carbon capture well consisted of a soft, saturated, clay/silt that was impassable when trafficked by even the lightests typical street-legal vehicles. It is great for growing trees or riding ATV's during deer hunting, but a long way from optimum for road building. The owners wanted a solution for the construction of roads through the deep Louisiana woods and working surfaces on the site that would ensure the project stayed on schedule and required very little, if any, surface maintenance. The company also wanted to ensure there was no differential settlement given that they planned to punch at least three holes from a single oversized pad.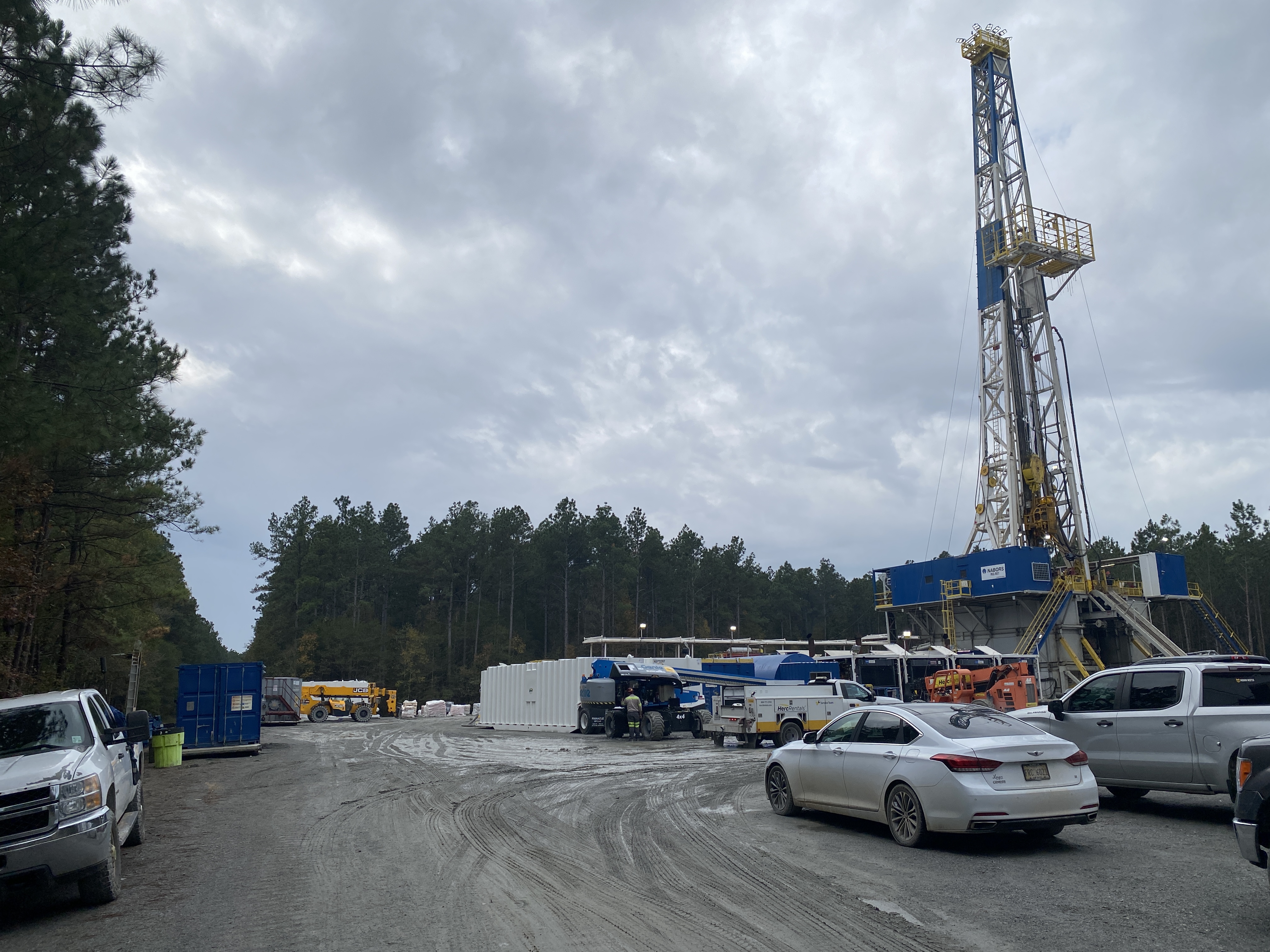 Initially, a generic biaxial geogrid and traditional aggregate section was installed at the site. The section failed miserably because the biaxial geogrid was inadequate for the given soil and loading conditions. In the fall of 2022, Tensar was asked to provide a proven solution, not something that may work, could work or was experimental. The owner turned to Tensar because they had done this successfully many times over. Two layers of InterAx NX850 geogrid provided greater long-term savings and all-weather 24/7 access. The bottom (of 850) layer and sand fill provided a bridge lift, and the top layer (of 850) and aggregate provided the wearing surface. High-performance geogrid provided the owner with reliable all-weather roadways and a pad with adjacent working surfaces that will save them lots of time and tons of money long into the future.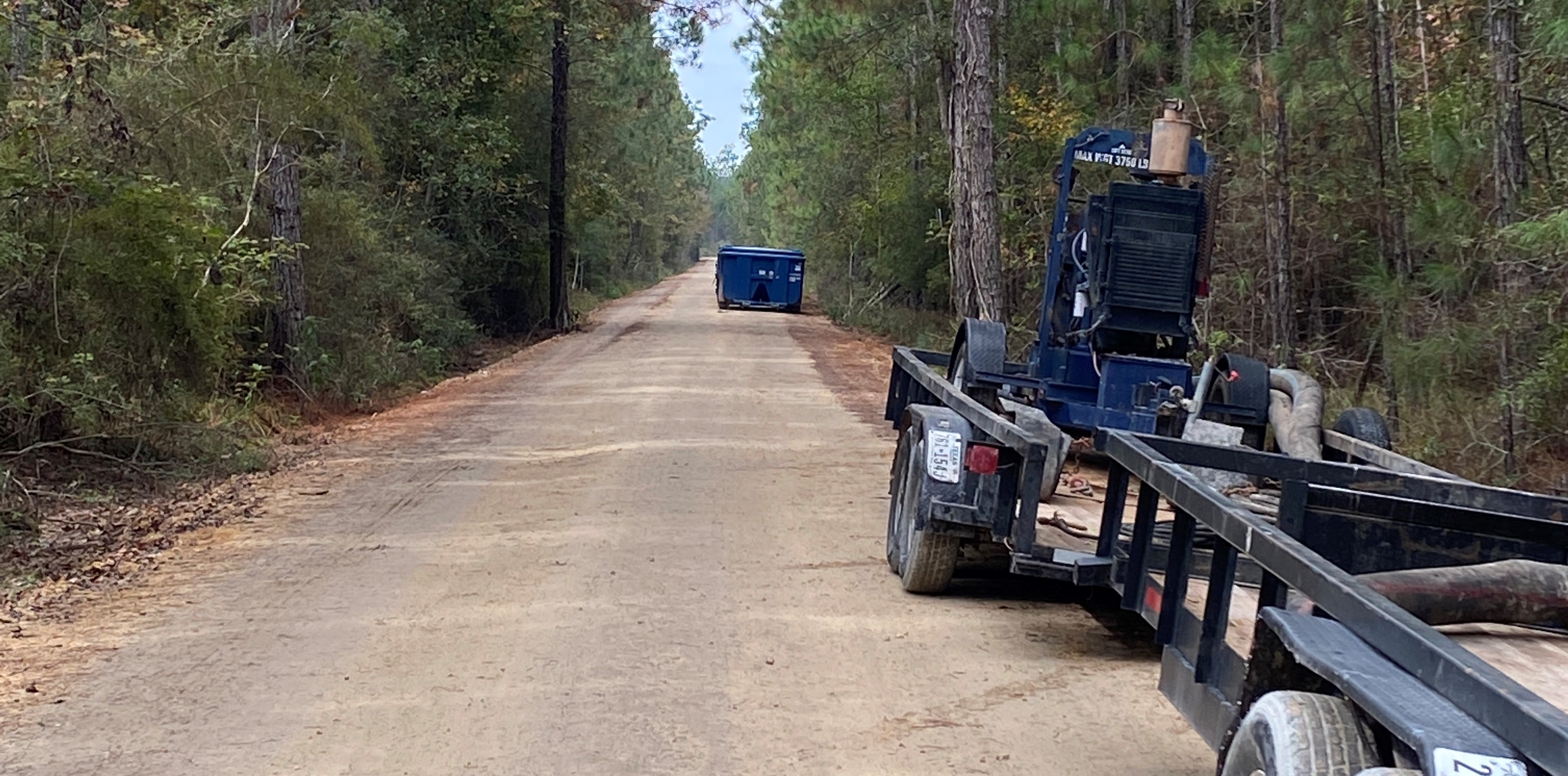 Tensar has provided solutions for geogrid-reinforced roads and surfaces at over 25 carbon capture and injection sites in several states across the Gulf Coast and the Midwest. Owners and operators benefit from the ability to build the necessary infrastructure more economically, faster, and with more sustainable methods and materials. The result is resilient roads and working surfaces, such as laydown yards and container storage areas, that will stand up to heavy use, require less maintenance, and last over time. Building CCS sites for long-term affordability and operability is the right approach economically, but also environmentally, supporting the sustainable purpose of these sites.
With the rapid growth of the CCS industry, site owners and their project managers are discovering that using Tensar InterAx geogrids to create stable roadways, pavements, and platforms saves money in both the short- and long-term, but also provides resiliency to critical access roads in the years to come.