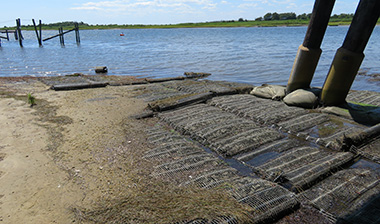 Manahawkin Bay Bridge
Manahawkin, NJ
January 2017
Award-winning project depends on Triton Marine Mattresses to solve critical bridge scour
Engineer: WSP Parsons Brinkerhoff
Contractor: Schiavone Construction
Owner: New Jersey DOT
Client's Challenge
Route 72 is the only highway access connecting Long Beach Island to the mainland. Subsequent to Hurricane Sandy, localized scour conditions were identified at three of the Thoroughfare bridges during regular NJDOT inspections. Most recent analysis determined the bridges to be scour critical, with future surges leading to instabilities and sediment erosion around the bridge foundations. It was also deemed necessary to protect a newly constructed bridge that was also part of a future project.
The NJDOT evaluated several scour protection methods including marine mattresses, articulated concrete block mattresses, A-jacks and riprap. Each method was rated on a scale of 1 to 5 (where a score of 5 indicates optimal performance) in various areas such as "constructability," "future maintenance," and "environmental impact."
Tensar Solution
The analysis concluded that Tensar's Triton Marine Mattresses would offer the most ideal solution due to its low-profile armoring with total depths ranging between 6 - 12 inches. Mattresses were also selected as a superior solution for future maintenance and adaptability to dynamic changing conditions. WSP Parson Brinckerhoff earned an ACEC National Recognition Award for exemplary engineering achievement for its design of the project.
The site was re-visited in August of 2019 to evaluate performance. The mattresses are beginning to show signs of oyster and SAV growth after 18 months.