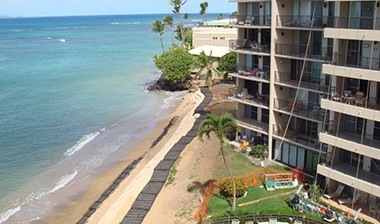 Hololani Condo Shore Protection
Lahaina, HI
Summer 2007
Tensar Triton Marine Mattresses protect an oceanfront condominium resort from shoreline erosion
Owner/Developer: Hololani Condo Association
Design Engineer: Sea Engineering
General Contractor: Nielson Construction
Construction Management: Allana, Buick and Bers, Inc.
Client's Challenge
Previous shoreline protection measures at an oceanfront condominium resort in Maui, Hawaii, were jeopardized without proper scour protection. As a result, the shoreline had eroded to within 15 feet of the hotel deck. Before the beach could be returned to the "heavenly" sands its name implies, a temporary emergency application was needed to defend against the erosive forces of wave activity with a fast turnaround.
While weather climates are typically calm and mild, infrequent northwest swells and Kona storms can approach the island quickly and unexpectedly. Local authorities preferred that the scour protection solution hold up in all weather conditions. As a result, unconfined stone, or riprap, could not be an option considered for installation.
Tensar Solution
Due to the successful track record of marine mattresses in similar scour protection applications and the urgency with which a new solution was needed, Sea Engineering, Inc., the coastal engineer, chose Triton BX Filter Mattresses for the job. The mattresses would be used as a foundation structure for the sand-filled geotextile bags that were installed for erosion protection.
The project owner and consultants selected Triton BX Filter Mattresses because of their:
Flexibility to maintain contact with the subgrade in changing conditions
Ability to completely contain the stone fill, allowing for no mess on the beach
Design flexibility; the engineer was able to select the exact thickness and length of the mats needed to resist the design wave
Strength to accommodate the site's strong tidal currents due to Tensar geogrid fabrication
Scour protection beyond the seawall footprint
Sea Engineering's Coastal Engineer Jim Barry remarked, "The Triton Filter Mats provided excellent scour protection. As the mattresses settle their protection increases, keeping the the sand bags from rotating." Three days after installation completed, the Maui Island was hit by a northwest swell. Winds turn to galeforce southerlies over the next two days, producing heavy southerly seas and immense rain. It was reported that the Triton Mats took a "beating" but held up strong.