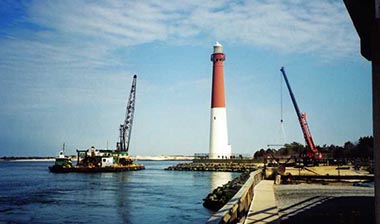 Barnegat Inlet Lighthouse Revetment
Barnegat Inlet, NJ
Winter 2001
Specially designed Tensar Triton Marine Mattresses are used to protect an underwater slope from strong tidal currents
Design Engineer: Philadelphia District Corps of Engineers
General Contractor: Cashman Construction
Owner/Developer: US Army Corps of Engineers
Client's Challenge
The narrow inlet at the northern tip of Long Beach Island features some of the strongest tidal currents in the continental US. Over time, tidal currents had created a scour hole which threatened the stability of the lighthouse foundation.
A conventional solution would have involved installing loose gravel or geotextile as a filter to contain eroding soil particles. This filter would have been capped with armor stones to prevent the material from shifting and eroding away. The US Army Corps of Engineers concluded that this approach was impractical because of the swift currents at the site.
Tensar Solution
A specially designed Triton Biaxial (BX) Marine Mattress was used to encapsulate and support the filter material. Gravel inside the geotextile-lined compartments helped ballast each filter mat until it could be lifted into place and secured with armor stone. A total of 32 units (160 mattresses) were installed using an overlapping pattern. The project was completed for less than $1.4 million.